Airbus owner EADS reports record deliveries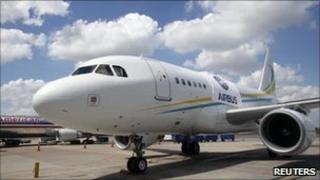 European aerospace giant EADS has reported higher annual profits after delivering a record number of its Airbus aircraft to customers.
The firm said reported net income of 1.03bn euros ($1.36bn; £836m) for 2011, up 87% from a year earlier.
EADS delivered a record 534 commercial aircraft during the year.
The company also said that China had blocked purchases of Airbus planes by Chinese companies in reaction to Europe's controversial carbon tax.
On 1 January, the European Union brought airlines under its Emissions Trading Scheme (ETS), which levies a charge on flights based on their carbon emissions.
China and other countries do not want to pay it, but the EU has said that it will not back down.
"Airbus is subjected to retaliation measures" from China, the AFP news agency reported chief executive Louis Gallois as saying.
"The Chinese government (refuses) to approve airlines' orders for long-range airplanes."
'Challenges ahead'
Announcing its results, EADS also said that its order backlog had jumped to a record 541bn euros.
"The stage is set for EADS to turn the corner towards increased profitability," said Mr Gallois.
"Certainly, 2012 will have challenges in store for us. We continue to devote the highest management attention to our key programmes, especially the A350."
The company delivered 26 of its A380 superjumbo planes, which have been in the news over cracks appearing in their wings.
In January, EADS ordered checks to be carried out on all A380s in service and the European Aviation Safety Agency has ordered an investigation. The wings are made in the UK, in Broughton, Flintshire.
EADS also delivered 503 helicopters at Eurocopter and launched its 46th consecutive Ariane 5 space rocket under the European Space Agency.
The company said that in 2011 "defence markets in the western world were under pressure, as anticipated".
"We will also have to monitor the uncertain economic environment and the outcome of discussions with governments on the future of defence procurement programmes," Mr Gallois said.
"It is essential that these talks, notably in Germany, show fast and sound results for both sides."