Morrisons says 'professional shoppers' helped profits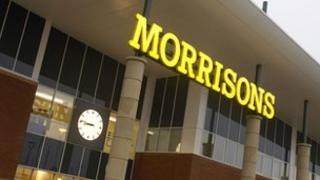 Morrisons says the emergence of what it calls "professional shoppers" has helped it to lift full-year profits.
The UK's fourth largest supermarket chain reported a profit of £947m in 2011, up 8.4% on the previous year.
Morrisons said it had noticed the rise of "professional shoppers", who look hard for bargains and share information on social networks.
The opening of 34 stores also helped Morrisons to attract a record number of customers last year.
Social media
Speaking to the BBC, Morrisons' chief executive Dalton Philips said the rise of the "professional shopper" had been a phenomenon "we've been seeing for the last six, eight months or so".
"They are customers who are spending to a specific budget - they are spending more time cooking at home, so cooking from scratch."
"And they are shouting about the bargains that they see out there, going onto social media checking for them and communicating them," he said.
Morrisons warned that it expected 2012 to be another tough year, with customers squeezed by high fuel costs and little growth in wages.
In a statement accompanying theannual results, the company's chairman, Sir Ian Gibson, highlighted the impact of rising fuel prices.
"With unleaded prices at the pump up by 15.4p per litre and diesel increasing by 18.5p, motorists were paying an average of 15% more per litre at the pump than they did last year [2010]," he said.
Morrisons also said that basic food prices jumped last year. Beef prices rose 15% and wheat prices were up 32%.
Fierce competition
Excluding fuel, like-for-like sales - which strip out the impact of new store openings - were up 1.8% last year.
Analysts said that Morrisons was performing well, but can only expect competition to get fiercer.
"The general economic outlook combined with the fiercely competitive market in which it operates will provide further challenges," said Richard Hunter, head of equities at Hargreaves Lansdown Stockbrokers.
"Tesco in particular is concentrating on a revamp of its offering, whilst Asda remains a menacing growth story."
To help generate growth Morrisons plans to open more convenience stores, saying that this part of the retail market is growing much faster than larger stores.