India moves in to keep essential medicines affordable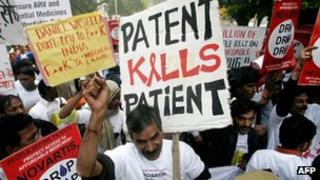 In a dark basement beneath a block of flats in central Mumbai, the Jivan Jyoti Drug Bank runs its operations.
Backed by charitable donations, it distributes medicines to the poor at discounted rates.
Some two dozen people, mostly women, sit on a mat on the floor, awaiting their turn to buy treatments for serious illnesses such as kidney and liver disease.
Trustee Manjuben Vora says the people here receive no government help.
"They do not have much money. Even if we give them medicines at concessional rates, even then it is not affordable for them."
New regulation
Prompted by the Supreme Court, the Department of Pharmaceuticals has put forward a new pricing policy for essential medicines designed to improve drug provision and affordability.
"There are a lot of people who cannot afford these drugs and there is no other way to access them," says Sujay Shetty, Pharma Life Sciences Partner at PricewaterhouseCoopers.
"We do not have a national health service here. So the government is very sensitive to that."
The draft National Pharmaceutical Pricing Policy 2011 (NPPP) recommends introducing a new market-based pricing mechanism and also increasing the number of drugs that are regulated.
However, reception of the new policy has been less than lukewarm. Both industry and campaign groups have criticised the plans.
A committee of ministers are studying the draft proposals and are expected to finalise the policy by the end of this month.
Widening its scope
Currently 74 bulk drug products and 1,577 formulations based on these drugs have their prices capped.
Last year, the Ministry of Health issued an updated National List of Essential Medicines, which lays out the medicines needed to meet the country's top health priorities.
The NPPP intends to regulate all 348 of the essential medicines on this list, as well as any other combinations of these drugs that are produced. This would widen the scope of price controls considerably.
A ceiling would be determined by the weighted average price of the top three brands by value.
According to the NPPP, the move would see 60% of India's drug market fall under regulation and deliver price cuts (of varying degrees) across more than 80% of essential medicines.
'Negative impact'
India's pharmaceutical industry isestimated to be worthabout $4.5bn (£2.8bn), according to Corporate Catalyst India, a consultancy.
Industry players argue that the sector is highly competitive and that prices are already among the cheapest in the world.
They are concerned that the proposed price controls would cover too many drugs, and hurt profitability and innovation.
The Indian Pharmaceutical Alliance, a lobby group representing 18 large generics companies, claims new price ceilings would cost the sector more than $600m in lost revenues.
According to its secretary-general D G Shah, it will also "harm export market development".
Lupin is one of India's largest generics firms, producing drugs for both domestic and overseas markets.
Should the new price controls be implemented, managing director Kamal K Sharma estimates that about a third of their output would be affected.
"I think the most negative impact of this is in terms of dollars or rupees invested in research," says Mr Sharma.
"It brings down the sentiment for the industry, and it goes without saying that pharmaceuticals is a research and knowledge intensive business."
Others have questioned whether the proposed measures would deliver cheaper drugs at all, with some even suggesting that the pricing mechanism is flawed and could actually skew prices upwards.
Profits v affordability
There are also concerns that should production of a drug cease to be profitable, there is a risk that companies may discontinue the production of certain essential medicines.
Of the 74 bulk drugs covered by the existing regulatory regime, only 47 remain under production, and if more were to be stopped, the move may prove counter-productive.
A final version of the policy is due before the end of this month but with opposition on both sides, Mr Shetty thinks it is unlikely to make it through without significant changes.
"We're largely a poor nation and affordability of drugs is a very key issue, and one is sympathetic to that. This is something that makes every policymaker nervous," says Mr Shetty
"But if the ultimate intention is to promote affordability, this seems to be not a very perfect mechanism to get there."