J Murdoch's BSkyB fate in MPs' hands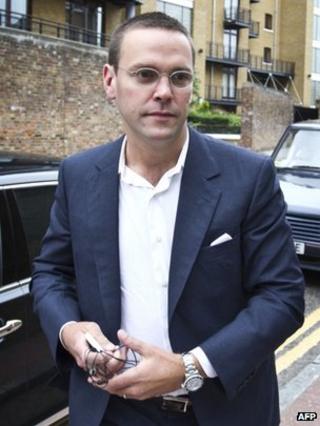 Has a report by a select committee of MPs ever before decided whether a business person kept his or her senior job?
I am not sure.
But I am told by sources at British Sky Broadcasting that the report due in a month or so by the Culture Media and Sport Select Committee on phone hacking will determine whether James Murdoch remains chairman of BSkyB.
If the committee's MPs were to explicitly challenge his testimony, on what he knew and when about phone hacking by the News of the World, and about other alleged illegal activities by journalists working for News International (including the Sun), it would be difficult for James Murdoch to retain the support of BSkyB's independent non-executive directors - or so I am told. Any suggestion that he was not a reliable witness would not gild his reputation.
Equally if the committee felt minded to unambiguously criticise his stewardship of News Int, again those non-execs would probably feel obliged to ask Mr Murdoch to step down.
Thus if the MPs were to conclude that they were misled in their earlier enquriy by News International employees about the extent of phone hacking carried out by the News of the World, they would have the locus to reflect on what this implied for Mr Murdoch's competence or intentions, since he ran News International at the time of the earlier enquiry.
What it comes down to is not just whether MPs believe Mr Murdoch when he says he was in the dark about the extent of illegal and allegedly illegal activities by News International staff till the end of 2010. What also matters is what reflections they make about his ignorance, if they accept it.
So will the MPs be damning and will Mr Murdoch therefore quit the chairmanship of BSkyB?
I am told that the committee has not yet come to its conclusions - and won't do so for some weeks yet. As I understand it, the MPs would like to publish the report before Easter, but if the Leveson Inquiry were to uncover more information relevant to the MPs' assessments, then there could of course be a further delay.
Right now the MPs are assessing the implications of the disclosure to Leveson of a 2006 email from the News Int lawyer Tom Crone to the then editor of the News of the World, Andy Coulson - which says that the police had told the then editor of the Sun, Rebekah Brooks, that there were between 100 and 110 victims of phone hacking - far more than News Int admitted to in public at the time.
James Murdoch became chief executive of News Int in December 2007. Just a few days ago, he quit as chairman of News Int, to return to New York, where he will concentrate on his other position, deputy chief operating officer of News Corp, the parent of News Int.
If Mr Murdoch were to vacate the BSkyB chair, that would not amuse his father - since a Murdoch has always been chairman or chief executive of BSkyB, which is 39% owned by News Corp.
Would Rupert Murdoch fight to keep a Murdoch as chairman of the company? Difficult to know. The obvious success to James Murdoch is BSkyB's senior independent non-executive director, Nick Ferguson.
BSkyB without a Murdoch as chairman or chief exec? It's an intriguing thought.