More investors sign up for Greek debt swap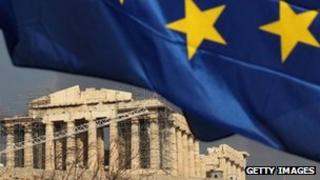 More private sector lenders have signed up to a Greek debt swap deal that may determine whether or not the country can remain in the euro.
The banking group leading negotiations said that 39.3% of bondholders have agreed to swap their Greek government bonds for new debt.
But 75% in total is needed for the deal to pass.
The deal is a condition for Greece's new bailout and a failure to clinch it would probably lead to a debt default.
Investors have until 2000 GMT on Thursday to agree to the debt swap.
Stocks plunged on Tuesday on fears that many investors would not sign up.
On Wednesday, the Institute of International Finance said that just under 40% of private holders of the outstanding Greek debt had agreed to it.
Debt restructuring
By the deadline on Thursday, private sector bondholders, such as banks and pension funds, must agree to take a 53.5% cut in the 206bn euros of Greek bonds they hold.
Seventy-five per cent of creditors must agree for the deal to carry through.
They are also being asked to accept a lower interest rate and give Greece more time to repay them, further reducing the value of what Greece owes them.
The European Union and International Monetary Fund have said - if the debt swap does not go through - that Greece will not get its latest bailout of 130bn euros.
The European Union's Economic Affairs Commissioner Olli Rehn told French newspaper Le Figaro on Wednesday that the deal should proceed "without a hitch".
Late on Tuesday, Greece's finance ministry said that six of the country's largest banks will accept the deal.
National Bank of Greece, Eurobank, Alpha, Piraeus, Hellenic Postbank and ATEbank said they accepted the deal. Together they hold about 40bn euros of the 206bn euros of affected bonds.
France's Societe Generale and Italy's UniCredit - both of whom have seen large write-downs on their Greek holdings triggering steep falls in their share prices - also said they would participate, according to the Bloomberg news agency.
But five small Greek pension funds - holding about 2bn euros of debt - have said they will not accept the deal.
"These days are particularly crucial. The success or failure of (the debt swap) will be decided by midnight on Thursday," Finance Minister Evangelos Venizelos told a radio programme.
The finance ministry continued to make it clear that the alternative to the debt swap was a potential default.
"The republic's representative noted that if [private sector involvement] is not successfully completed, the official sector will not finance Greece's economic programme and Greece will need to restructure its debt," it said on Tuesday.
Their 107bn-euro write-off - the "haircut" - together with a huge package of public sector cuts aim to reduce Greek debt from 160% of GDP to 120.5% by 2020.
Athens was first bailed out in 2010 with 109bn euros from the EU and IMF.
The Irish Republic and Portugal have also received bailouts.