Kingfisher Airlines suspended by Iata over unpaid debts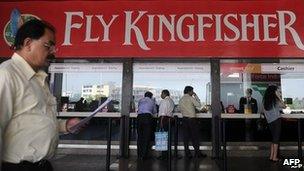 India's Kingfisher Airlines has been suspended by the International Air Transport Association's (Iata) from using its clearing house.
It is used to divide income between airlines, including multi-leg journeys.
The suspension, for failure to pay its bills, means Kingfisher will have to make direct deals with other airlines in order to share journeys.
The loss-making airline has struggled to run a full schedule of flights as it urgently seeks additional investment.
Japan Airlines has also canceled an agreement to allow its customers to book part of their journey with Kingfisher.
Kingfisher said its suspension by Iata would not affect its customers.
"Kingfisher Airlines continues to operate 200 flights to 46 domestic and international destinations. The ICH suspension does not impact our guests travelling on any Kingfisher Airlines flight or our flight schedules," it said in a statement.
However, the Reuters news agency has reported that Kingfisher is currently using just 28 of its 68 planes, due to funding difficulties.
In February Kingfisher reported a 75% increase in its losses to 4.44bn rupees ($90m; £57m) between October and December 2011, compared with 2.54bn rupees a year earlier.
The carrier has failed to make a profit since it was founded in 2005 by Indian beer entrepreneur Vijay Mallya.
Recently it has struggled with rising oil prices and debts of around $1.3bn. It is reportedly seeking $400m in investment.
"The future doesn't look bright," said airline analyst John Strickland.
"I would expect to see Kingfisher... to reduce its scale of operation, possibly more than it's had to do so. It's struggling to survive in a highly competitive and price-sensitive market."