Former RBS boss against break-up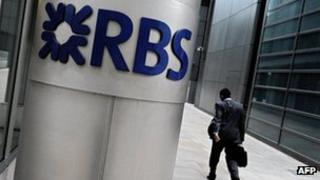 A former Royal Bank of Scotland (RBS) boss has called plans to break up the bank "totally inappropriate".
It comes after Business Secretary Vince Cable called for the bank to be split up in a letter leaked to the BBC.
Speaking to the BBC, Sir George Mathewson, who ran RBS from 1992 to 2001, also criticised Mr Cable's idea of creating a national business bank.
The Business Secretary's suggestions have since been over-ruled, according to our business editor Robert Peston.
It means RBS will not be used to create a new national bank designed to lend to small and medium-sized businesses.
A spokesperson for the Prime Minister David Cameron told the Reuters news agency that RBS was already becoming a more British bank, with needing to be split up, by downscaling its international investment banking operations.
"In future RBS will continue to be a major UK bank but the majority of its business will be in the UK and it will be personal and business banking."
New bank
However, our business editor says discussions continue over other ways to create a new bank.
Mr Mathewson said such ideas have not worked in the past.
"Most government schemes for helping business, schemes in which they are directly involved, haven't worked in the past. They've become bureaucratic, slow to decision-making," he said.
Instead, he suggested, less pressure should be put on banks to build up the capital they must hold as a buffer against losses on their loans and investments.
"Some of the new capital requirements at this point in the cycle are regrettable," the former RBS chief told the BBC.
"It's just become so expensive that the banks are driven to try and make a return on capital [and] the terms to business become more difficult."
Relationships
Mr Cable has declined to give details of a British Business Bank and has said that for now government policy is focused on increasing the money available for businesses.
"The key emphasis of policy at the moment is getting this credit easing policy up and running to cheapen credit for SME borrowers - small-scale companies - and make sure there is more capital going to them," he told the BBC on Tuesday.
Mr Mathewson said that banks also needed to work to rebuild their relationships with small businesses.
He warned the "climate of trust" between businesses, advisors and banks has deteriorated as the credit crunch cut lending.