Adidas sees record profits in 2011 as Olympics approach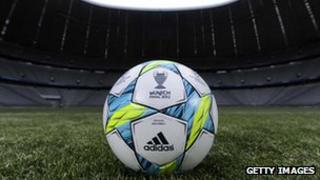 Sportswear firm Adidas has unveiled its best-ever annual profits, as hopes rise that this year's Olympics will help it break more records.
It reported a 18% rise in net profits in 2011 to 671m euros ($881m; £559m), though the firm barely made a profit in the last three months of the year.
Rising sales in Eastern Europe and China drove demand, the company said.
Adidas said the 2012 Olympics and the UEFA Euro soccer championships would push figures even higher this year.
Markets focused on the disappointing performance in the last three months of 2011, falling 2.9% in early trading.
Adidas added that it only expects sales to grow by a mid to high single digit amount this year, in contrast with the 13% seen in 2011, which also weighed on investor sentiment.
But despite the weak profit Adidas, the world's second largest sportswear firm behind Nike, saw robust sales growth in the last quarter, up 11% from a year earlier to 3.26bn euros.
This included a 19% rise in North America, one of the markets that Adidas expects to deliver strong growth.
Chief Executive Herbert Hainer said: "We enjoyed our fastest organic sales growth rate since 2006.
"We made progress on improving profitability," adding that this summer would help the firm to top its sales figures.
"There is always great buzz and excitement around major sports events and they don't come bigger than the London 2012 Olympic Games and the UEFA Euro 2012."