Tokyo prosecutors charge Olympus and former executives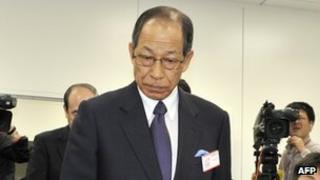 Tokyo prosecutors have charged camera-maker Olympus and three of its former executives in connection with a $1.7bn (£1bn) accounting cover-up.
Ex-chairman Tsuyoshi Kikukawa, former executive vice-president Hisashi Mori and former auditor Hideo Yamada are among those charged with falsifying securities reports.
Olympus has admitted to hiding these losses for over twenty years, in one of Japan's biggest corporate scandals.
The three were arrested last month.
"The company takes the prosecution by the Tokyo District Prosecutors' Office with utmost seriousness and will continue to make every endeavour to enhance the corporate governance systems," Olympussaid in a statement.
A further three people who were not Olympus employees have also been charged in connection with the alleged fraud.
'Wrong-doings'
The scandal came to light in October last year after former chief executive Michael Woodford claimed that he was fired for questioning accounting practices at the firm.
Mr Woodford said he had raised specific concerns about Olympus' payment of $687m to financial advisers during the acquisition of UK medical equipment company Gyrus.
Though Olympus initially denied his claims, the firm later admitted that it had been hiding losses for almost two decades.
Analysts said the latest charges against Olympus and its former executives indicated that the firm had not been run properly in the past several years.
"It seems that all is becoming clear step by step that there were wrong-doings by the former management," Yuuki Sakurai of Fukoku Capital Management told the BBC.
"I think they are trying to put the finger on the names as to who was directly responsible for this issue."
Delisting threat?
The scandal has caused Olympus shares to lose more than 50% of their value on the Tokyo Stock Exchange (TSE).
The firm was also put on a watch-list by the bourse when it delayed the filing of its account statements in wake of the scandal. The firm must file regular accounts as a condition for its place on the exchange.
Though the TSE did not delist the company on that occasion, analysts said that the charges now brought against Olympus have once again raised a threat to the company's future on the stock exchange.
"There is a risk the prosecutors may find that there are more people involved and it's a company-wide problem," said Yuuki Sakurai, president of Fukoku Capital Management.
"That may be detrimental to Olympus' listing at the Tokyo Stock Exchange."
Meanwhile, the AFP news agency quoted a spokesman of the TSE as saying that it would take action against the firm only if any new facts came to light.
"We will consider whether to delist Olympus or not if prosecutors disclose fresh facts, but an indictment on facts we already know is not a condition for delisting."