Range Rover unveils convertible Evoque 4x4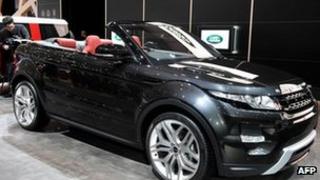 Jaguar Land Rover (JLR) has unveiled a convertible concept version of its Range Rover Evoque.
The car could help Land Rover broaden its customer base by attracting more women and younger drivers, according to global brand director John Edwards.
The hard-top Evoque was launched last year and is on course to become the marque's best-selling model.
Separately, Mini unveiled a commercial vehicle, the Clubvan, at the Geneva motor show.
Currently, Rover's Freelander, Discovery and Defender models sell in greater numbers than the Evoque and the full-size Range Rover and Range Rover Sport.
But models such as the Evoque are changing the balance.
Luxurious Range Rover models will outsell Land Rover models by 2030, Mr Edwards said.
'Roaring success'
JLR describes the convertible as a "design and engineering study", and insists "there are no production plans confirmed as yet".
But given early reactions to the model, many industry observers seem convinced it will enter production.
"I think it would be a roaring success," said John Leech, head of UK automotive analysis at KPMG, a consultancy.
"There's definitely a desire factor to a sports utility vehicle such as this."
Although owned by an Indian company, Tata Motors, JLR is a British manufacturer that exports to 170 countries around the world.
"JLR is our one and only real exporting success story in the UK automotive industry," according to Mr Leech. "The amount of cars JLR will sell will go up and up and up.
But JLR is not merely growing, Mr Leech reasons.
What is important, he insists, is that it is expanding at a rapid pace in some of the world's fastest growing and largest economies, Brazil, India, China and Russia - often referred to as Brics.
JLR is eager to start producing vehicles in China and is currently looking for a production partner there. Company executives declined to comment on reports that it is awaiting regulatory approval for a joint venture with Chery Automotive in China.
Reports that JLR's parent company Tata Motors might buy what is left of the bankrupt Swedish carmaker Saab were also given the silent treatment by executives at the Geneva motor show.
Mini's new Clubvan
Meanwhile, BMW's Mini unveiled the Clubvan.
The van is a re-versioned Clubman, which is 10mm longer than a standard Mini and comes with two side-hinged doors at the back and an additional side door.
Parent company BMW said that the van would be more expensive than similar vehicles made by rival companies.
"If you look at price per cubic metre, it will be expensive," said BMW's Klaus Draeger.
"So it depends on what you want to have.
"It is not just about transporting goods. It is about exclusive transport of fine goods in a commercial environment that is highly sensitive to advertising," said Mr Draeger, the head of research and development.
The Clubvan's two front seats are separated from the flat-floored load bay by a partition grill.
A tinted rear window and panels instead of side windows offer small firms a chance to advertise their business while doing deliveries, Mr Draeger pointed out.
Raise the profile
Analysts said there would be demand for the Clubvan if Mini's parent company, BMW, was to put it into production.
"One can only wonder why it has taken so long for the company to look in this direction," said Ian Fletcher, automotive analyst with IHS Global Insight.
Indeed, the original Mini was sold as a successful van.
Many small firms use existing Mini models to raise the profile of their brands within the cities they operate, Mr Fletcher observed.
"The Clubvan certainly has the right credential for practicality that a small city-based business may be looking for," he said.
The Geneva motor show is open for the public from 8-18 March.