UK petrol prices set official record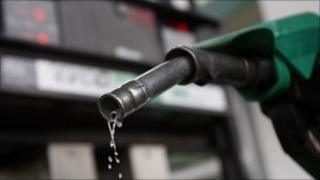 The average price of unleaded petrol has hit a record high, according to government figures.
The Department of Energy and Climate Change (DECC) said the average price of unleaded in the UK was 137.3 pence per litre on Monday 5 March, which was 1.1p higher than the week before.
The previous record of 137.05p was set on 9 May 2011.
Last week, industry analysts Experian Catalist said petrol had hit a record high of 137.44p a litre.
The average diesel price is also at a record high, government figures show, at 144.7p a litre, up 0.8p from the previous record, which was set last week.
Petrol has been pushed up by oil prices, which have risen in recent months due to tensions over Iran's nuclear plans and unrest in the region.
Prices have also been buoyed by the exchange rate.
Although the price of crude oil - measured in US dollars - has yet to rise above the peak it recorded in 2008, the dollar is more than 25% stronger against the pound than it was in 2008, meaning that oil prices are much higher when measured in pounds.