February new car sales fall 2.5%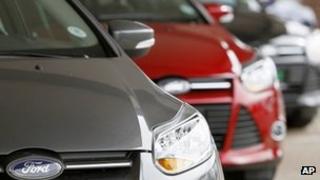 The number of new UK cars registered in February came in at 61,868, down 2.5% from the same month last year.
February is traditionally a quiet month for car registrations before the new plate, which is introduced in March.
Private registrations were up 0.6% in the month, while fleet sales fell 3.7% and business sales dropped 12.2%.
The figures come from the Society of Motor Manufacturers and Traders (SMMT), which called on the chancellor to boost consumer confidence in his Budget.
"It is extremely important that the chancellor uses this month's Budget to strengthen consumer and business confidence by encouraging private sector investment and avoiding any further squeeze on living standards," said SMMT chief executive Paul Everitt.
The best-selling car in February was the Ford Focus, followed by the Ford Fiesta, although those rankings swap round for the year to date.
They were followed by the Volkswagen Golf, Vauxhall Corsa and Vauxhall Astra.