A Red Knight considers the Blue model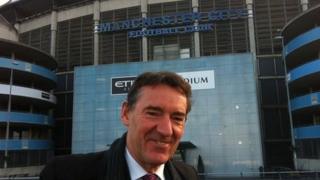 "I don't know how you've persuaded me to do this," laughs Jim O'Neill.
We're in the back of a cab in his home city of Manchester, heading to the dark side, at least in his eyes.
The chairman of the asset management division of Goldman Sachs is well-known for his lifelong love of Manchester United, as well as coining the term "Brics" to describe the emerging economic titans of Brazil, Russia, India and China.
But today I'm taking him to the home of United's arch-rivals Manchester City, in order to illustrate a point about foreign investment.
The cab pulls up at the Etihad Stadium. "Do we have to get out?" he asks, only half-joking.
Sheikh Mansour, of Abu Dhabi, has poured money into the club since he bought it in 2008 and there are ambitious plans to regenerate the whole area around the stadium.
"It is really exciting," says Mr O'Neill, despite himself. "Having the two top clubs in the Premier League battling it out together is a fantastic thing for Manchester."
Benefits for all?
In 2010, Mr O'Neill led the so-called Red Knights consortium in an unsuccessful attempt to wrest control of Manchester United from its American owners, the Glazer family. The Glazers are often accused by United fans of not putting a penny into the club - a criticism that cannot be thrown at City's wealthy owners.
Manchester City are building a new training centre amongst other projects and say that they will invest £1bn on redoing the Eastlands complex, "which will create thousands of jobs", estimates that the council also stands by.
"Of course it's not a patch on the one a few miles away, but for them it's not bad!" Mr O'Neill says. "No really, it's a fantastic stadium."
The point of course is that the investment in Manchester City is a good example of the kind of economic transformation that sometimes comes from deep-pocketed foreign largesse.
The idea is a central theme of the Greater Manchester Growth Plan, which has been compiled by a group of top economists and business people, with Mr O'Neill at its helm.
It was set up by the Greater Manchester Local Enterprise Partnership and is designed to plot a course for growth for the Greater Manchester area. Their first report will be published on Monday.
Mr O'Neill says: "Its because of my legacy as a Mancunian. I'm very proud to be from here and I've never forgotten it. What little I can try to do to help in any way, I'm very happy to do."
Mr O'Neill was brought up in Gatley, a working-class area on the edge of Wythenshawe in south Manchester, which itself was once one of the largest council housing estates in Europe. He went to school at a comprehensive in Burnage.
"That's why I'm chairing the economic advisory panel. I want to see how Manchester can regenerate itself further and create more opportunities for local people," he says.
On the way out of the city centre to the Etihad, Mr O'Neill looked out of the cab windows as the gleaming new buildings receded, to be replaced by the more desolate spaces which still scar parts of north and east Manchester.
"In central Manchester, a superficial visitor would think wow, what a transformation from its old days, certainly from when I was growing up here," he says.
"But as soon as you go a couple of miles either way and you ask those people if they are getting the benefits of all of this, and the answer is unfortunately probably not."
'Amazing unfolding story'
The UK already has one of the most open economies in the world, but Mr O'Neill believes British companies should be less suspicious of foreign investment and takeovers, as a way of growing the economy in the difficult years ahead.
"I'm really fond of saying to people that China creates the economic equivalent of another Greek economy every 11-and-a-half weeks," he adds.
"You get all this never-ending media coverage about the problems of Europe and we're missing this amazing unfolding story going on in Asia and elsewhere."
Manchester has so far enjoyed quite a bit of attention from overseas investors.
In 2010, the Greater Manchester area attracted £1.9bn in foreign investment, either creating or safeguarding about 35,000 jobs.
This is about 6% of the total amount of foreign investment for the UK as a whole, meaning that Manchester is slightly ahead in securing investment from overseas, as its share of the UK economy is about 4%.
An example to be found in the Greater Manchester area is a company called Holroyd Precision, which makes high-tech machine tools.
Based in Rochdale and employing 220 people, it was transformed after being taken over by a large Chinese manufacturer, Chongqing Machinery and Electric Co.
Chief Executive Tony Bannan said there was nervousness when the company was bought but the experience has been positive. Profits are being re-invested and he said the Chinese owners had a much longer-term vision than most British companies.
Reassurance
But does it matter when British firms are taken over by foreigners?
"That's a good question, isn't it?" Mr Bannan said. "Emotionally it matters and of course the control of these companies ultimately lies with the owner. But as long as the business performs it doesn't matter as much as it might have done a few years ago.
"We had to be firmly convinced that the plan was not to break the business apart and take it away to China. Once we had that reassurance both the workforce and our customers were very happy."
Holroyd has almost doubled its turnover since the takeover two years ago and is now planning to build a new factory.
The company says it is still British, employing British people, and producing high-tech, high-quality British goods.
Suspicion of such foreign takeovers is a "mistake", according to Goldman's Mr O'Neill.
"The takeover of the British car industry is a great example. The latest data shows that today there are more cars produced in Britain than 30 years ago."
After the global economic crisis, we have to focus on the parts of the world where the growth is, he said, adding that Germany now exports more to the Bric countries than to its neighbour, France.
"Most people of my generation have grown up thinking that America is really important, but find it difficult to realise how important some of these newer economies are becoming."