Shareholders sue Tepco executives for nuclear disaster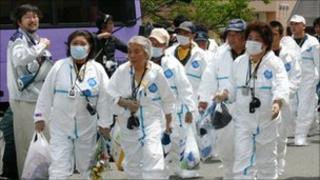 Shareholders in the Tokyo Electric Power Company (Tepco) have sued the firm's directors over their role in the Fukushima nuclear plant disaster.
They want the directors to pay damages of 5.5tn yen ($67bn; £43bn) to the firm, claiming they failed to prepare for such an incident.
There were radiation leaks at the plant after it was damaged by last year's quake and tsunami in Japan.
Tepco is facing $100bn in compensation claims from those affected.
The group, comprising 42 shareholders, said Tepco should use the money raised from the damages lawsuit to settle these claims. Some 80,000 people had to be evacuated from the areas surrounding the plant after the incident.
"By seeking to hold individuals responsible, we want to correct the collective and systemic irresponsibility in the nuclear industry," Hiroyuki Kawai, one of the lawyers for the group was quoted as saying by the Reuters news agency.
Last month, the Japanese government approved additional aid of $9bn for Tepco to help it pay for compensation claims.
Broader impact
The developments at the Fukushima Daiichi nuclear plant have had a big impact on Japan's nuclear energy sector.
Almost all of the country's 54 nuclear reactors have been shut over growing fears about the safety.
The lawyers for Tepco's shareholder group said that their case against the firm's directors would help to ensure that management at other nuclear reactors took adequate measures before re-starting those facilities.
"This could be very effective in halting reactor restarts," Hiroyuki Kawai said.
"Directors of other utilities may have a sense of crisis that they could lose their own homes if they carelessly restart reactors and see another accident."