Is the Fed reading your tweets?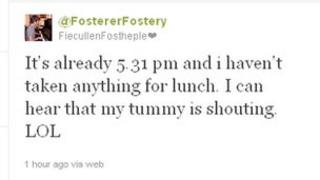 The millions of daily Twitter updates and Facebook posts about our everyday thoughts are turning out to be some of the best economic and financial data out there, according to recent research.
Now central bankers are starting to take note and are looking for ways to use this data in their ongoing struggle to keep their economies growing.
"Someone makes a nice sandwich and makes a comment on Twitter about it and it's difficult to see how that tells you something about economic conditions," says Indiana University Professor Johan Bollen, one of the co-authors of a study that found that Twitter can predict stock market returns.
But he adds: "From our research, all of those thoughts, all of those updates combined somehow do seem to be a pretty good indicator."
Economists' standard data sources often have long lag times. For instance, many surveys of consumer sentiment often fail at giving real-time, instant understandings of how a population feels about the economy - an important data point for central bankers, who try to judge whether or not they should stimulate their economies based, in part, on forecasts of consumer demand.
Now, with the advent of sophisticated big data analysis and an explosion of social media, there may finally be a way to really understand what consumers - who generally power economies - are thinking about, and more importantly, thinking about buying.
"Internet search data can, and already have, played a role in providing information to the Monetary Policy Committee (MPC) about the current state of the economy," says Rachana Shanbhogue, an economist with the Bank of England.
Ms Shanbhogue, along with her colleague Nick McLaren, published a paper arguing for more internet data to be used in the Bank's analysis of the UK economy.
"The data could become increasingly useful as more and more people involve the internet in their economic activities and decision making."
Unemployment data? Google it
Hal Varian, Google's chief economist since 2002, has been working on ways to corral the huge amount of data the search-engine powerhouse gathers, and how to turn it into useful tools for economists and policymakers.
Google Trends data, one such tool, has proved very good at what Varian and his team call "predicting the present". A spike in searches for cars in June, for instance, can predict vehicle sales in July.
Search data is also good at predicting less easily quantifiable economic indicators such as consumer sentiment and labour market data.
A large number of people search for motorcycles, for instance, when they think petrol prices will rise, and a surprising number of people search for pornography shortly after they lose their jobs.
This interests economists, not because there is a correlation, but because the correlation can be detected long before official data is released.
"The idea is you're trying to look at early warning signals or early signals of consumer intent, because typically official data takes a month or so or as long as a quarter to be released whereas the search data is almost instantaneous," says Mr Varian.
Central banks take note
So-called "nowcasting" was first shown to be possible back in 2005, but central banks have been slow to incorporate the tools alongside their traditional economic indicators.
The Bank of England quietly started using search data in its monthly MPC meetings in 2010, using search data relating to employment, for instance, alongside traditional measures of business and household surveys.
The Bank of Israel goes so far as to publish its particular search data alongside labour market estimates in monthly reports on the economy.
"Every month we pull out about 30 query indexes from the Google Insights for Search database," says Dr Tanya Suhoy, a senior economist at the Bank of Israel.
"This pool of indexes covers the local demand, employment activity and the search for apartments."
She says the data is useful when predicting future demand and consumer confidence in Israel.
The New York Federal Reserve and the Bank of Italy are also exploring ways to incorporate search data and social media analysis into their economic analyses.
Questionnaires v Twitter
Until recently, most "nowcasting" has focused on Google's search data, but data from Twitter and Facebook might prove even more useful, particularly when it comes to gauging consumer sentiment.
Prof Bollen and his team have pioneered this area of research, demonstrating in a series of papers how Twitter can predict stock market activity and beat traditional consumer sentiment surveys.
Prof Bollen says he was surprised by his findings.
"A sophisticated questionnaire with a very well-defined sample is the golden standard of gauging public sentiment," he says. "It's very different from the chaotic set-up where people comment on just about anything that pops into their head on a second-by-second basis."
Yet somehow, it is this chaotic set-up that is the best predictor of market conditions.
In one test, researchers analysed 30% of public tweets that had the word "bull" or "bear" in them in one day.
These words, it turns out, were only used when people were talking about the stock market, and only when they were talking about a specific type of market - one that was either going up (a bull market) or going down (a bear market).
While the research is still in its early stages, Microsoft research scientist Scott Counts says that his company's investment arm is already looking at how analyses like this might be used in their overall money-making strategy.
"[The investment group] looks at all kinds of global and economic political data," says Mr Count, a co-author with Prof Bollen.
"Talking with them, they say that probably half of what they look at is influenced by sentiment, broadly defined, and social media is one - hopefully - good way to get a gauge."
Making money from Facebook
If Twitter is a good predictor, Facebook might be better, at least according to Yigitcan Karabulut, a PhD student studying finance in Germany.
"There are more than 150 million Facebook users in the US, it's almost half the population," he says. "Beyond the number of users, people use Facebook very intensively, every user uses Facebook 31 minutes a day, which makes an aggregate of 700 billion minutes a month."
Facebook publishes something every day that it calls the Gross National Happiness (GNH) index, which measures the positive or negative sentiment of a huge database of daily status updates.
In soon-to-be-published research, Mr Karabulut found that using the GNH index, one could predict if the stock market would go up or down, and that a higher GNH index is correlated with higher trading volumes.
"We are all trying to find better measures or alternatives which may be more insightful," says Mr Karabulut, arguing that his research could be useful for policymakers in addition to banks.
For now, using search data and social media analysis in macroeconomic forecasts is still in the early stages.
The research is there, but the implementation is difficult because of how complicated central banks' economic models are.
Yet the future is certainly towards better, quicker information that can be used to help central bankers to more effectively direct monetary policy, which is "a good thing for all of us", says Prof Bollen.
"Making decisions in the absence of knowledge is never a good thing."