Cable admits 'concerns' over Vauxhall factory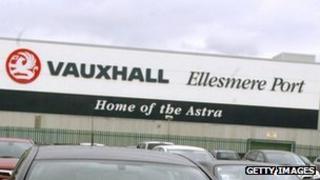 Vince Cable has told the BBC he does have "concerns" about the future of Vauxhall's Ellesmere Port factory, but that he is also "positive" that owner General Motors (GM) will keep it open.
The comments of the business secretary came as speculation continues that GM may choose to close the plant.
This is because GM has excess manufacturing capacity at its Vauxhall and Opel European operations.
Mr Cable said he has urged GM's bosses to keep the plant open.
"We have set out a very positive case to them for remaining, and indeed expanding their operations in the UK," said Mr Cable, who has now met twice with GM's chief executive and chairman.
"I'm positive, but it is their decision and they haven't yet made it."
Mr Cable's comments came as the chief executive of Opel and Vauxhall, Karl Stracke, vowed to "work aggressively" to make the brands profitable.
Mr Stracke was speaking at the Geneva motor show, where he declined to offer any assurance to workers in the UK or Germany.
Industry observers have said that Vauxhall's Ellesmere Port factory in the UK and Opel's Bochum factory in Germany are likely candidates if Mr Stracke decides to close one plant.
Mr Cable added: "My job as the British business secretary has been to make the case to GM that Britain is a good place to be, they have a very productive plant, they have got a very productive workforce, and they have got a very supportive government."