Opel boss 'vows to regain profitability'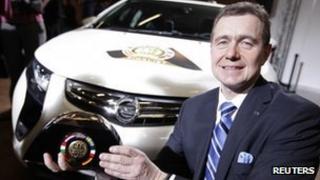 The boss of carmakers Opel and Vauxhall has vowed to "work aggressively" to make the brands profitable.
"We are talking to every stakeholder right now to improve the business in order to provide sustainable profitability," chief executive Karl Stracke told BBC News.
Fears are growing that his cost-cutting plan will involve the closure of at least one factory in Europe.
He declined to offer any assurance to workers in the UK or Germany.
Investment funds
Industry observers have said Vauxhall's Ellesmere Port factory in the UK and Opel's Bochum factory in Germany are likely candidates if Mr Stracke decides to close one plant.
The fears grew after last month's revelation that Opel/Vauxhall suffered massive losses last year.
Mr Stracke was eager to stress that some 11bn euros ($14.5bn; £9.2bn) is being invested in new products, with some 30 new Opel and Vauxhall models scheduled for launch over the next three years.
This should help the company gain market share and grow, he said.
Opel/Vauxhall's electric Ampera, which comes with a petrol engine to extend its range, is among the carmakers' most innovative products.
The Ampera was named Car of the Year at the Geneva motor show on Monday.
Opel and its UK subsidiary Vauxhall are owned by the US automotive giant General Motors.