IAG purchase of BMI will not be reviewed by OFT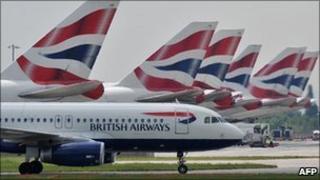 The UK's Office of Fair Trading (OFT) has decided not to review BA-owner International Airline Group's (IAG) deal to buy BMI from Lufthansa.
The move means the decision on whether to approve the deal will remain with the European Commission.
In February, Virgin Atlantic lodged a formal complaint about the merger with the Commission, which automatically reviews large deals.
It has until 16 March to decide, although the deadline may be extended.
The OFT had until Monday to decide whether to review the merger itself or leave it to EU regulators.
Monopoly
The Virgin complaint alleged the deal would create a monopoly for British Airways on some routes between Heathrow and Scotland and north-western England.
Passengers could face higher fares and reduced services linking the North West, Scotland and London Heathrow if British Airways succeeds in taking over rivals BMI, Virgin Atlantic has claimed.
These concerns led to calls for the the deal to be referred back to the OFT.
However, the regulator has said the European Commission is best placed to deal with the concerns.
"The proposed acquisition of BMI by IAG has generated a significant level of concern in the UK, especially in Scotland, the North West of England and Northern Ireland," said Sheldon Mills, OFT director of mergers.
"We consider that the transaction should be subject to a careful and detailed review and we will continue to work closely with the European Commission to ensure that UK airline passengers will not lose out through the proposed deal," he added.
Experience
Virgin - which also bid for BMI - has also complained that the deal would give IAG a dominant position at London Heathrow.
The OFT argued that examining this required reviewing the impact of the deal on routes across multiple countries, not just the UK.
And it said the European Commission had substantial experience dealing with mergers involving both airlines.
IAG has defended itself against the Virgin complaint.
In a statement last month, it said the deal was aimed at safeguarding services operated by the loss-making BMI.
"We've committed to keeping services from Belfast to Heathrow and increasing flights to Scotland. Virgin Atlantic has never flown to Scotland and, as far as we know, has no plans to do so," it said.