Surprise increase for eurozone retail sales in January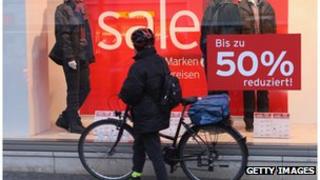 Retail sales across the eurozone rose unexpectedly in January, figures show, but a separate survey has indicated economic activity remains weak.
EU figures showed retail sales in the 17 countries that use the euro rose a stronger-than-expected 0.3% in January.
Sales across the EU's 27 states as a whole rose 0.7% in January.
However, February's eurozone purchasing managers' index (PMI) for services and industry indicated that activity in these sectors contracted last month.
'Serious threat'
The retail sales figures showed that Germany, usually one of the eurozone's strongest performers, saw sales fall 0.6% in January, while France saw a rise of 2.1%.
Sales across the EU's 27 states as a whole rose 0.7% in January.
Retail figures for Spain and Greece have not been disclosed for the period.
The highest increases in retail sales across the 27 EU states included Latvia, up 6.4%, Slovenia, 5.5% higher, and Romania, up 3%.
Howard Archer, economist at research firm IHS Global Insight, said: "While January's eurozone retail sales data were modestly better than expected, they do not hugely dilute concerns that weak consumer spending remains a serious threat to hopes that eurozone economic activity can return to growth in the first quarter of 2012."
February's composite PMI reading for eurozone services and industry indicated activity had declined last month after growing in January.
The index fell to 49.3 in February from 50.4 the month before. Any reading below 50 indicates contraction.
"It remains a close call as to whether the eurozone contracted for a second successive quarter, sending the region back into recession," said Chris Williamson, chief economist at Markit, which compiles the PMI information.
The eurozone's economy contracted by 0.3% in the last three months of 2011. A recession is usually called when there are two successive quarters of economic contraction.
The latest eurozone data comes as Greece's financial woes remain in the spotlight.
It faces a deadline of 8 March to compete a bond exchange with private investors before the country's second bailout is paid.