Glencore profits from commodity price rises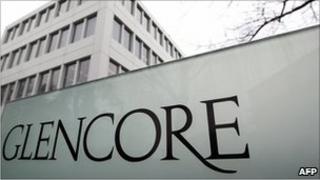 Commodities trading giant Glencore has reported a sharp rise in revenues on the back of higher raw material prices.
It also said it would push ahead with its planned merger with mining giant Xstrata, describing it as the "logical" next step for the firms.
Revenue for the year to 31 December 2011 was up 28% to $186.2bn (£117.7bn) and net income excluding one off items rose 7% to $4.06bn.
But the company offered no improvements in the terms of its deal with Xstrata.
Merger deal 'fair'
"The announcement of... our proposed merger with Xstrata is the logical next step for two complementary businesses to create a new powerhouse in the global commodities industry," said Glencore chief executive Ivan Glasenberg.
Some investors had hoped the company would offer to enhance the deal for Xstrata shareholders.
Two major investors in Xstrata have said they will vote against the move, because they say it undervalues the company's shares.
Standard Life Investments and Schroders, which between them own 3.6% of Xstrata, said the deal was not currently in Xstrata shareholder interests.
But speaking after the results were announced Mr Glasenberg said the current terms were "fair to all shareholders".
Strong demand
The company described 2011 as "challenging" but said it had benefited from higher prices for goods it supplies.
"In particular, the industrial business benefited from stronger average prices for the key commodities it produces as well as the planned increase in production at many operations," said Mr Glasenberg.
Prices for crude oil, copper, wheat and gold were all higher in 2011 than 2010, said the firm.
The 39% rise in the oil price was the single largest driver of the firm's higher revenue, the company said.
In the longer term, it said, urbanisation in emerging economies such as Brazil, India and China would continue to drive demand for commodities.
The company said 2012 had seen a pick up in economic activity across all its major markets.