Hong Kong exchange extends trading hours amid protests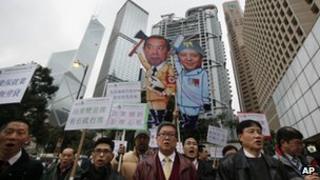 Traders on the Hong Kong stock exchange will see their lunch break trimmed from 90 minutes to an hour from Monday.
The move has been fiercely resisted by some local stockbrokers, who say they need the extended lunch break to meet with clients and conduct research.
They have organised a number of last-ditch protests in recent weeks.
The stock exchange said the move was necessary to make Hong Kong more competitive by aligning trading hours with major exchanges in Asia.
Local brokers and traders from the city's many smaller brokerage houses are unhappy with the shorter lunch break and say the move favours bigger firms, with more staff and resources.
"It will mean we can't go out and have a meal with clients," Patrick Lam, chairman of the Hong Kong Securities & Futures Employees Union, told the BBC.
"Hong Kong has many individual investors and my colleagues and I need to meet them in person to promote the securities. It's the way things are done here," added Mr Lam, who has worked as a stock broker in the city for almost 30 years.
Restaurant owners in the city's financial district have also joined the protests, fearing a loss of business, although fast food outlets are reportedly preparing for a surge in customers.
China competition
Hong Kong Exchanges and Clearing (HKEx), which operates Hong Kong's stock exchange, said in a statement that the move would align "the opening of the Hong Kong securities market's afternoon trading session with that of the Mainland (China) market".
Hong Kong is in competition with Shanghai to be the main centre for trading of Chinese stocks. Mainland Chinese companies account for more than half of the stock exchange's market value of roughly $2.3 trillion (£1.4tn).
Monday's changes are the second phase of the stock exchange's plans to extend trading hours.
In March last year, the start of trade was pushed forward by 30 minutes to 09:30 and the lunch break cut to 90 minutes from two hours.
Trading hours will now be five-and-a-half hours, compared with just four hours before the first phase of the plan took effect.
All-day trading is the norm in the US and Europe, where exchanges are in some cases trading for more than eight hours.
In Asia, Tokyo shortened its midday halt to one hour last year, while Singapore recently scrapped its lunch break altogether, joining Australia, South Korea and India on the list of exchanges that have uninterrupted trading days.