Spain to miss 2012 budget deficit target, says Rajoy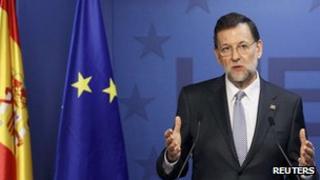 Spanish Prime Minister Mariano Rajoy has said his country will miss its budget deficit target for this year, just as EU leaders agree a new treaty to enforce budget discipline.
Mr Rajoy said Spain's deficit would be 5.8% of total economic output in 2012, higher than its agreed target of 4.4%.
He said the higher target still represented "significant austerity".
The Netherlands also said it would miss its budget target for this year, with a deficit of 4.5%.
The Dutch target was 4.1%.
'Difficult objective'
"I'm backing austerity and aim to reduce the deficit from 8.5% [in 2011] to 5.8%," said Mr Rajoy.
In January, he outlined 8.9bn euros ($11.8bn; £7.4bn) in new budget cuts, as well as tax increases designed to raise 6.3bn euros.
But analysts said even hitting the new deficit target would not be easy.
"It's still a difficult objective in the absence of any traction in external demand," said Emilio Ontiveros at Analistas Financieros Internacionales in Madrid.
"Spain is going to depend a lot on the economic tone of its main commercial partners in the eurozone."
Mr Rajoy's comments came as all but two of the 27 EU leaders signed a new treaty designed to stop member states running up huge debts like those that sparked the bailouts of Greece, Portugal and the Republic of Ireland.
To take effect, the pact must be ratified by 12 eurozone states.
The Spanish economy contracted in the final three months of 2011 by 0.3%
The country has the highest jobless rate in the EU, with almost one in four people out of work.