Stamps price rise is backed by MPs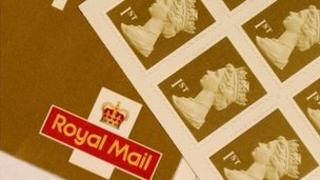 A committee of MPs has given its backing to a planned rise in the price of stamps, despite raising concerns about the cost to vulnerable people.
The Commons Business Committee said it was "appropriate" for the price of first class stamps to increase above the current 46 pence.
It also accepted that second-class stamps should go beyond the current price of 36p.
But it said the increase could be a problem for small businesses.
An announcement is expected shortly from Royal Mail on higher prices, although the cost of posting Christmas cards in 2012 will be the same as last year for some consumers on certain benefits.
"There is no doubt that market uncertainty is placing significant, additional pressures on Royal Mail and that some increase in the price of stamps is necessary," said the committee's chairman Adrian Bailey, in areport on stamp prices.
Royal Mail should "consider robust data on the position of vulnerable consumers and small businesses when determining the future prices of stamps", he added.
"It must also be sensitive to the possible effect on its volume of business and the need for higher prices not to operate as a disincentive against efficiency measures.
"The principle of universal access underpins our mail service and must be maintained at an affordable rate."
Robert Hammond, of watchdog Consumer Focus, said: "Royal Mail faces a huge challenge in turning the business round and maintaining a universal one-price service, but that must not lead to unjustified hikes in stamp prices.
"This is an essential service and the right balance must be struck between the needs of the business and its customers. Stamp prices are likely to rise but any increases must be based on a convincing analysis of the market and Royal Mail's costs."
The committee listened to evidence as regulator Ofcom consults on plans to remove price caps on first class stamps and raise the price limit on second class to as much as 55p.
Ofcom, which has taken over regulation from Postcomm, has previously said that the industry is facing "huge changes" and that reform is needed.
It told MPs last week thatits proposals, announced in October, were designed to make sure UK consumers continued to benefit from an affordable, universally-priced postal service six days a week.