Bank attacks use of teaser Isa rates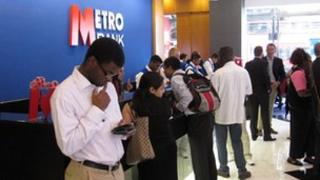 The use of "teaser" rates when banks and building societies launch new tax-free Isa accounts has been attacked by Metro Bank.
It says the common marketing ploy of boosting the headline interest rate with a one-year "bonus" is dishonest.
Metro Bank says the industry should stop using this misleading gimmick.
"Consumers should be wary of banks that resort to short term 'bonuses' to exaggerate their headline savings rates," said Metro Bank.
"It's time for banks to end easily misunderstood savings rates, and be straightforward with their customers," said the bank's chief executive, Craig Donaldson.
In the run-up to the end of the financial year, banks and building societies launch a so-called "Isa season".
It sees the launch of a raft of new account offers that encourage people to use up their annual Isa allowance for tax-free saving before it expires at the end of the financial year.
Currently savers can put up to £10,680 into an Isa, half of which can be in cash.
In April 2012, the allowance will increase to £11,280, again up to half of which can be saved in cash.
For many years it has been common practice for new accounts to carry an attractive headline rate boosted by a so-called bonus, which then typically lapses after one year.
This can frequently leave the savings of unobservant customers languishing in accounts which then offer relatively poor rates of interest.
Metro Bank says that of the top five instant access Isa accounts in the Moneyfacts ranking, four have introductory rates that will drop by an average of 1.7 percentage points when the initial rate expires.
Sylvia Waycott, editor of Moneyfacts, said: "It's not just Isas, it's a feature of savings accounts generally."
"You should make a note of when the introductory offer ends and look for a new one, but if it is a variable rate account the rate can change anyway."