Northern Rock 'bad bank' repays £2bn of government loan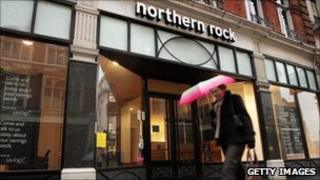 Northern Rock Asset Management (NRAM), the so-called "bad bank" that manages Northern Rock's mortgage book, repaid £2bn of the government's loan in 2011.
But the bank still owes £19.7bn, said UK Asset Resolution (UKAR), the firm responsible for running down the bad loans of NRAM and Bradford & Bingley.
It said that NRAM made a pre-tax profit of £789.9m last year, more than four times the £191.3m profit of 2010.
Northern Rock was split in two in 2010 following its nationalisation in 2008.
UKAR as a whole - including both NRAM and Bradford & Bingley - saw profits rise to £1.1bn in 2011, up from £444.1m a year earlier.
Together they repaid £2.15bn to the government, with £46.6bn outstanding.
Newcastle-based Northern Rock collapsed during the credit crunch, experiencing funding problems when banks stopped lending to each other in 2007, and suffered the first run on a British bank in more than a century.
NRAM remains in government ownership, while the "good bank", Northern Rock plc, has been sold to Virgin Money.
The objective is to wind down the bad bank and so NRAM is closed to new lending.
Long-term returns
BBC business editor Robert Peston said that the reason for the big profit is that there has been a sharp reduction in loans going bad and a fall in running costs.
UKAR'saccounts for 2011showed that NRAM reduced its mortgage book to £38.4bn from £44.15bn in 2010.
NRAM has now repaid a total of £3.1bn of the government's loan since separating from Northern Rock plc.
Earlier this week UKFI, the body which manages the government's bank investments, said that the taxpayer could expect cash returns of £46-48bn from the rescue of Northern Rock.
However, although this would provide a positive return on the government's £37bn funding provided for the bailout, it may take up to 15 years to get the cash.