Small businesses harness the power of cloud computing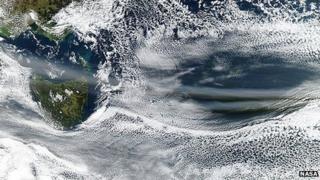 As part of a new series on how small and medium-sized firms use technology - which will run throughout March - we ask experts for their views.
John Engates is the chief technology officer (CTO) at Rackspace Hosting and has been with the company for more than 11 years. As CTO, John is involved in the technology and service strategy for Rackspace and frequently speaks with customers at conferences, and to the media and analyst community, on the topic of cloud computing and Rackspace's role in the future of IT.
Rackspace Hosting provides cloud computing services, and is a founder of Openstack, the open source cloud operating system.
Small- and medium-sized enterprises (SMEs) have access to greater computing power than ever before thanks to cloud computing.
This remote computing power - provided by a third party, usually over the internet using a web browser, and often without a contract - is transforming the way SMEs use IT and even do business.
Cloud computing is lowering the barrier to entry into business for some SMEs, and helping speed up exploitation of new opportunities for others.
It is democratising IT and enabling many SMEs to act like, and appear to be, organisations of much greater size and scope. In these ways, with SMEs the growth engine for many countries, cloud computing has the potential to have a positive impact on industries and economies alike.
Yet it's not a panacea for all IT problems, nor is it for everything that IT may be applied to - it has its limits, of course.
SMEs in different industries use different cloud computing and related apps in different ways. And as with all business technology, local regulations may restrict the use of some cloud-based services by organisations in certain industries.
I'd argue, though, that it is for every business which uses IT, at least in some way, and will outline below how some of our customers have used it to their advantage.
Why the cloud?
With cloud computing, SMEs no longer necessarily need to buy hardware and software licences, and manage IT in-house.
Businesses pay for what cloud-based services they use - such as email, customer relationship management (CRM), payroll systems, online back-up, web hosting, application management, printing, invoicing apps, and collaboration tools, to name but a few - removing the need to make large one-off investments.
It's therefore much less expensive and risky for SMEs to procure and use IT in the form of cloud services, and the potential rewards are great.
For instance, MedicAnimal.com, an online supplier of high quality pet care and veterinary products that does business across Europe, is saving in excess of £100,000 a year by replacing its entire in-house IT infrastructure with Rackspace cloud hosting.
This move allowed it to reduce online operating costs and freed up resources from hardware management.
Little wonder then that recent Gartner research (Gartner Executive Programs, January 2012) showed that SMEs are increasing spending on cloud services.
Commenting on the findings, Gartner analyst Dave Aron said that "cloud-based services are allowing small companies to have industrial-strength IT very quickly".
Clear benefits
It's also clear why we're seeing SMEs - especially the smallest organisations - lead the way both with cloud adoption and in finding innovative ways to use the computing power at their disposal.
Reducing the barrier to entry to a market is a compelling prospect for start-ups intent on selling their products or services as soon as possible.
Similarly, cloud computing can improve business agility, and help more established businesses with relatively small IT budgets to rapidly move into new territory or alter their business model.
For example, UK-based florist Mode Flowers was able to develop a new e-commerce business using our cloud services - much faster and at a much lower cost than would have been possible before cloud computing.
The company is also using cloud computing to extend their e-commerce platform into continental Europe, to take on bigger players in the industry.
UK digital signage provider Signagelive recently moved its media delivery infrastructure to our cloud to unlock volume markets and new value chains.
The scalability of cloud computing is being harnessed by businesses which would formerly have been limited by the restrictions of in-house IT, such as having to wait days or even weeks for a new server to arrive at the office.
Freshbooks, a Canadian-based provider of online invoicing and book keeping for professionals - a cloud service provider itself - uses our services to scale capacity up as it grows, and manage spikes in online demand. So too does Behance, a fast growing US-based social network for creatives.
The 'all-cloud' enterprise
It's important to note that SMEs are not alone in driving cloud adoption.
Although large enterprises still often hold core IT applications in their data centre, and manage them in-house, we've seen their small business divisions or departments, which may have an entrepreneurial approach (ie are similar to SMEs), go around the IT department to put cloud apps to good use.
Conversely, we've worked with internal IT teams of multinationals which have used our cloud to provide apps and services to other business divisions.
In my experience, the smaller the company, the more likely they are to use cloud-based services for all their IT needs, but this will change over time.
SMEs will no doubt continue to embrace cloud-based services and related applications, and remain at the forefront of cloud developments. However, as they grow, and as the cloud market evolves to both meet the demands of industries for different apps and services and to overcome current limitations, it seems inevitable that we will also see the arrival of larger enterprises which are truly "all cloud".