Swiss economy grows despite strong franc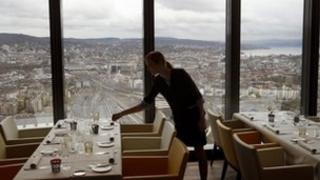 Switzerland's economy recorded surprise growth in the final quarter of 2011, fuelled by exports despite the soaring Swiss franc.
Gross domestic product grew 0.1% in the three-month period, the Swiss State Secretariat for Economic Affairs said.
Economists had expected the economy to shrink because of the spillover from the eurozone debt crisis.
In 2011, Switzerland's economy grew 2.6% - much more than most of its European neighbours.
Exports - excluding precious metals, jewels and arts and antiques - increased by 2.8% in the last quarter of the year.
Gross fixed investments increased by 2.5%, due to investment in equipment and construction.
This was despite the surging value of the Swiss franc against the euro as the currency acted as a haven for investors looking for safety.
"Favourable growth in the fourth quarter must not overshadow the challenging situation Switzerland's economy still faces," said bank analyst Joerg Zeuner.
The strong currency rise in 2011 hit Swiss exporters, making goods more expensive for foreign buyers, and hurting Swiss companies' profits when they repatriated their foreign earnings back home.
The Swiss franc rose 2.7% against the euro last year - trading at one-to-one with the euro last August and causing the central bank to intervene to weaken it.
The currency has risen against the euro for the past four years - including a 19% jump in 2010.