Can German business ideas revive the UK economy?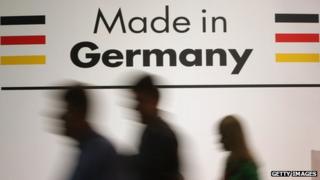 With a fragile economy, falling living standards and austerity biting, British politicians are in search of a new model of economic growth - does Germany have the answers?
"Which European country sells most to China?" asked Labour leader Ed Miliband in a recent speech to the Social Market Foundation.
"It's Germany. Winning on the basis of high-value production where quality counts."
Hardly a week goes by without UK politicians or think tanks using Germany's success to advocate a new policy.
As someone who has worked in academia, think tanks and as a Downing Street adviser, I know policies are not as easy to import as cars and machine tools.
And comparatively few Brits have spent much time in Germany. We admire, but do we really understand?
So, I went back to Germany for the first time since a school trip 40 years ago.
What struck me most were the shared values across business and society that underpin German thinking.
Take the question - so sensitive in Britain - of bosses' pay.
While in financial services the pay gap can be huge, as in the UK, elsewhere in business it is different.
As Oke Goettlich, co-founder of the Hamburg-based digital distribution company Finetunes, told me: "It would not fit with team spirit if the bosses would just drive their Porsches while other employees are left with 2,000 euros (£1,665) a month."
The German way
Despite working in the new world of creative media, Mr Goettlich is equally committed toGermany's traditional apprenticeship system.
Indeed, Hamburg's current Apprentice of the Year, Michael Bock, works for Finetunes, having given up a law degree to do so.
He praises what he learns at training school, alongside his job. The teacher's goal, he says "is to make you useful to the company and you can use the knowledge you get there wherever you go".
Apprenticeships, in other words, are seen as benefiting German society as a whole.
And they are part of a profound consensus, says Prof Thomas Straubhaar of the Hamburg Institute for International Economics.
"This is in the genes of German understanding - that industry is the heart of the German economy."
So how easily could this approach be transplanted into the UK, where we do not have such consensus?
Advocates of German solutions for Britain tend to pick the bits that suit them best.
Lord Wood, one of Ed Miliband's closest advisers and an expert on Germany, likes the idea of trade unions as "partners in long-term industrial adjustment".
But that would mean British unions accepting the need to modernise and become less confrontational - a sensitive subject for the Labour party.
"It does require all actors in the economy to think about ways that they can improve their co-ordination," says Lord Wood cautiously.
Meanwhile Conservative MP Elizabeth Truss, part of the Free Enterprise Group, recently called for Britain to emulate Germany in creating capped-rate "flexi-jobs" with easier dismissal terms for employers.
But there was no praise for the system of partnership between employers and trade unions which negotiated the changes.
British Conservatives - and British business leaders - have never been keen on German norms like workforce representation in the boardroom and close regulation of industrial relations.
Germany's UK investment
There may be some ways in which the UK and Germany are coming closer, though - through German investment, for example.
"We have German apprenticeship systems in the UK," says Bob Bischof, chief economic adviser of German Industry UK. Companies like Siemens, Bosch and BMW run their own colleges to train British employees.
In other areas, though, Bischof sees British and German attitudes as far apart.
Take the question of credit and debt. Germany still has usury laws, he notes, prohibiting high rates of interest. This is why credit card usage is so much lower in Germany than in the UK.
Another German living in Britain is Claudia Crawford, who as Claudia Nolte grew up in communist East Germany, and was German federal families minister in the 1990s.
She has been struck by the British fondness for property bubbles and easy credit.
"If Germans don't have money they don't spend," she says.
"It was a great surprise for me coming to London to learn if you haven't money to spend you get another credit card."
Germany's disciplined approach to budgets, personal as well as governmental, is shaped by historic fear of hyperinflation - "something burned in our national brain," says Claudia Crawford.
Perhaps the UK would have to undergo a trauma like hyperinflation to become fully German in its thinking?
German success derives not just from policies but long-established institutions, shared history and culture.
The UK could usefully aspire to be more Germanic in areas like skills training and long-term economic thinking.
But we should appreciate that we have strengths Germans envy - for example our higher education system or experience of integrating a wide range of ethnic minorities.
The next time a politician or think tank urges us to learn from Germany we should bear in mind the warning I heard in Hamburg from Prof Thomas Straubhaar: "You can export goods - but you cannot export or trade mentalities."
Listen to the full report onAnalysisonBBC Radio 4on Monday, 5 March at 20:30 GMT and Sunday, 11 March at 21:30 GMT.
You can listen again via the Radio 4websiteor by downloading the Analysispodcast.