House price rise is temporary, says Nationwide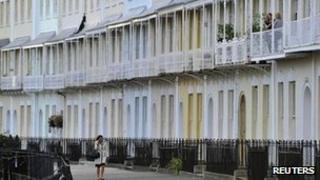 UK house prices rose slightly in February but the lift in values may not last through the summer, according to the Nationwide.
The building society said the average value of UK homes went up by 0.6% in February compared with January.
Prices were up by 0.9% compared with the same month a year earlier, making the average home worth £162,712.
The boost to activity could be the result of the approaching end to a stamp duty holiday, Nationwide said.
The 1% stamp duty rate for first-time buyers, on properties worth between £125,000 and £250,000, is being reintroduced on 24 March.
"Given the still challenging economic backdrop this increase in housing market activity may be the result of a temporary rise in first time buyers entering the market to take advantage of the stamp duty holiday," said Nationwide's chief economist Robert Gardner.
"If so, this may continue to support activity and prices in the near-term before cooling over summer."
On Wednesday, the Bank of England reported that the number of mortgages approved for home buyers, but not yet lent, in January was up 30% from a year earlier.
Stamp duty
The mortgage approval figures are traditionally a good indicator of the level of forthcoming sales.
The number of properties sold in January, at 64,000, was 23% up on a year earlier, according to figures from HM Revenue & Customs.
However, the Council of Mortgage Lenders has already warned that this uplift will be temporary and sales will fall back once the 1% stamp duty rate is reintroduced for first-time buyers.
"It is tempting to conclude that the latest rise in the Nationwide index is a result of the recent improvement in mortgage approvals," said Ed Stansfield at Capital Economics.
"But the reality is that approvals remain depressed and experience says they have ample scope to rise before they put sustained upward pressure on house prices.
"Given that prices are still at historically high levels relative to incomes, a sustained recovery looks to be many years away," Stansfield added.