BA owner IAG sees strong profit rise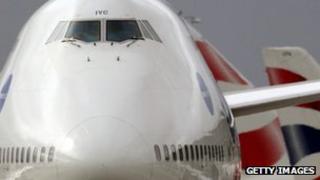 IAG, the parent firm of British Airways and Spain's Iberia, has reported an increase in annual profits.
The company made a pre-tax profit of 503m euros(£425.6m; $677.8m) in the year to December 2011, after a profit of 84m euros the year before.
Revenue rose by 10% to 16.3bn euros, despite an increase in fuel costs of 29.7%.
The company said the improvement was against the backdrop of a particularly difficult year in 2010.
In 2010, it was affected by disruption from the Icelandic ash cloud, strikes and a weaker economic environment.
IAG's chief executive, Willie Walsh, said demand for its North Atlantic routes had remained strong.
The airline also said it had cut non-fuel costs by 5.6% last year and increased revenue per passenger by 3.6%.
Analyst Keith Bowman at Hargreaves Lansdown stockbrokers said IAG's results were encouraging.
"Revenues per passenger are up, whilst non-fuel related costs are down. Exposure to a recovering US economy is considerable, while outdated work practices at Iberia are being addressed.
"On the downside, fuel costs continue to take their toll, denting expected performance in the first half of 2012."
Duty 'destroying jobs'
IAG warned that this summer's Olympics in London could depress business from the UK, noting that past experience in other host cities suggested that demand could be dampened during the games.
However, the carrier said the event would be "positive for the long-term position of London as a global destination".
IAG continued its criticism of Air Passenger Duty (APD), which is applied to almost every ticket on a flight originating in the UK.
The company said British Airways had paid almost £500m in APD last year, and said that, as a result of the increase to APD due in April, it was reducing by about half the number of new jobs it would create this year.
Willie Walsh told the BBC that government should cut the duty for the good of the economy.
"The impact of these very high taxes - the highest in the world - is very negative on the UK economy and is destroying jobs," he said.
"So a government that claims to have a growth agenda, that has individual policies then that are undermining the security of jobs and destroying jobs and destroying the opportunity to create jobs really does need to assess these issues."
IAG is planning to expand by buying the BMI airline from Germany's Lufthansa, something that would allow it to boost its services from London's Heathrow airport.
However, the deal - which has been strongly opposed by rival carrier Virgin - still needs the approval of regulators.
The company said it was hopeful this would be forthcoming.