Greek PM in Brussels for talks over second bailout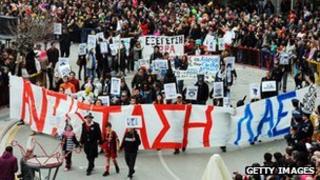 Greek Prime Minister Lucas Papademos is visiting Brussels to seek final approval for the country's second bailout deal.
It comes as Greece is continuing with the spending cuts required before it starts to to get the extra 130bn euros ($174bn; £110bn) of loans.
Greece needs the first instalment by 20 March to avoid a disorderly default on 14.5bn euros of its bonds that are due to mature.
Greek MPs agreed more cuts on Tuesday.
By a vote of 202 to 80 in favour, they passed a further 3.2bn euros of spending cuts, including new pension cuts and a reduction in the minimum wage. Further budget cuts are due to be voted on later on Wednesday.
As a condition of the second loans package, Greece also requires banks and other financial firms to agree to take a 53.5% loss on their Greek sovereign bonds.
If backed by Greece's creditors it would wipe out 107bn euros (£90bn; $142bn) of the country's debt.
The Greek government's austerity measures are continuing to spark protests on the streets of Greece's major cities.