Hong Kong emerges as Asia's art capital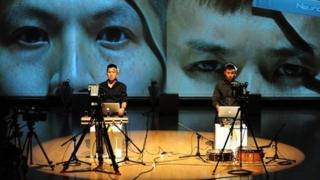 Samson Young is not your typical Hong Konger. A multimedia artist, his profession is unusual in this city of bankers, tycoons, lawyers and office workers.
But Mr Young, who decided to move to the former British territory from New York three years ago, says that Hong Kong's reputation as a place where people only care about making money no longer holds true.
"People are beginning to realise that you can make a career out of art and that is a very important mind change," he says, while introducing his latest work - an iPad app that interacts with Chinese opera music.
Long a city of trade and finance, Hong Kong is discovering a new role as Asia's art capital.
The city became the world's third largest art auction market after New York and London in 2007 and since 2008 has been home to a successful contemporary art fair.
Hong Kong is also attracting big-name art galleries, including London's White Cube, that cater to the region's newly wealthy collectors and is embarking on an ambitious museum project that aims to rival London's Tate Modern or New York's Museum of Modern Art.
"People are very optimistic here," says Mr Young. "Hong Kong is one of the few cities in the developed world that is increasing the amount of art funding in a substantial way."
'Seductive energy'
White Cube, which championed high-profile contemporary artists like Damien Hirst, opens its first gallery outside London in a limestone-clad, 31-storey skyscraper in Hong Kong's financial district on Friday.
Graham Steele, the gallery's Asia director, says the decision to open in Hong Kong was driven by a number of factors, including the ease of doing business in a city where there is no sales tax and the import and export of art work is duty free.
"The energy of the city is very seductive for dealers and artists," he says. "It's a scene that's about to blossom and in a really great way."
White Cube's first exhibition will feature the work of British contemporary artists Gilbert & George. High-profile art dealers Larry Gargosian, Ben Brown and Edouard Malingue have also opened gallery spaces in the city over the past two years.
But Hong Kong has not always been taken as seriously as an arts destination, says Magnus Renfrew, the director of Hong Kong's international art fair ART HK.
In 2007, when preparing to launch the first fair, Mr Renfrew says he took 40 flights in six months trying to convince international galleries to take part.
"There was a lot of scepticism from the international art scene about doing art fairs in non-traditional destinations. Hong Kong was a much harder sell," he says.
The first fair in 2008 attracted 100 galleries and 19,000 visitors, numbers which have since more than doubled, demonstrating a hunger among the local population to see contemporary art and spurring many blue-chip galleries to make the trip east.
ART HK's status on the international art circuit also got a boost last year when the company that organises the world's largest contemporary art fairs - Art Basel and Art Basel Miami Beach - took a 60% stake for an undisclosed sum.
Mega museum
What's been missing from Hong Kong's budding art scene are the grand museums and non-commercial art spaces that are commonplace in London or New York.
But an ambitious project on a patch of reclaimed land overlooking Hong Kong's famed Victoria Harbour aims to change that. M+, as the contemporary art museum will be known, will part of the 40-hectare West Kowloon Cultural District and is one of the biggest museums in development globally.
Due to open to the public in 2018, an international competition for the building design will be be held this year. Plans include 20,000 square metres of exhibition space - almost double that of the Tate Modern.
Lars Nittve, a founding director of the Tate Modern, has been in charge of the project since 2011. He has a HK$1.7bn ($200m) budget, part of a massive government endowment for the West Kowloon site, to build a collection that will have Chinese contemporary art at its core.
Challenges
Hong Kong does face potent challenges, both at home and from rival cities, as it seeks to cement its position as Asia's art capital.
Singapore launched its own art fair in 2011 and an array of new art venues and gallery spaces have opened up, often with government backing. Hong Kong's flagship West Kowloon project, while now on track, had encountered several setbacks.
Beijing and Shanghai have arguably more vibrant art scenes that are home to a number of a high-profile Chinese artists such as Ai Wei Wei that generate a lot of attention.
Hong Kong's artist community, however, is small and high costs mean that artists struggle to find studio space and often have day jobs as architects and designers.
And despite changing perceptions about Hong Kong as a place to produce and exhibit art, the scene is still commercially driven - primarily by China's newly minted millionaires and billionaires.
They have demonstrated a healthy appetite for the art and antiques of their own country but their demand for the conceptual Western contemporary art sold by the likes of White Cube is less proven, and could dry up if China's economy slows.
Hong Kong's growing band of artists, dealers and curators is undeterred by these potential obstacles. While the city's emergence in the arts field is still in its infancy, opportunities to see world-class art are mushrooming and they say its position on the global art map is more than warranted.
"It's a really exciting moment to be here if you are in the arts field," says Mr Nittve.