Bentley showcases offroad luxury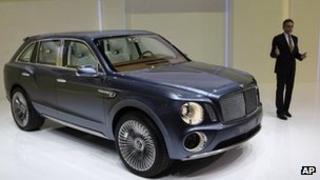 Luxury car company Bentley has unveiled an SUV, or sports utility vehicle, at the Geneva motor show.
The model is said to have been pushed through by chief executive Wolfgang Duerheimer, who was in charge of research and development at Porsche when it launched its now best-selling model, the Cayenne SUV.
Bentley would aim to sell 3,500 to 5,000 SUVs per year if it were approved for production, in addition to its current sales of some 7,000 per year.
"The SUV market is more globally consistent than our existing models," said product marketing manager Marcus Abbott, pointing to how these cars are popular with Bentley customers all over the world.
"Many of our customers have SUVs in their garages already, as well as Bentleys," he said.
Some industry observers said Bentley's SUV could fill a gap in the market.
"There is growing interest in super-luxury SUV-type vehicles at the moment, given the sums that many customers in this field are known to have spent modifying existing vehicles," according to Ian Fletcher, IHS Global Insight automotive analyst.
Others were more sceptical.
"The Porsche Cayenne has been a huge success, but that is competing with Range Rover," said John Leech, head of UK automotive at consultancy KPMG.
"I think Bentley is eyeing a higher price point, and that is a new market. You don't really need a Bentley SUV."
Fast-growing markets
Bentley, which is owned by Volkswagen, enjoyed a 37% rise in sales last year that helped it recover from a period of weakness during the credit crunch.
The carmaker now says demand has returned to pre-recession levels.
The US remains its biggest market. Sales there rose 32% last year to more than 2,000 cars.
Sales in China grew even faster, almost doubling to more than 1,800 sales.
Bentley says adding a third product to its line-up will stabilise its sales, which have been volatile in recent years.
Pay deal
The sales growth has done little to heal a rift between management and the 2,700 workers in Bentley's factory in Crewe in the UK, however.
In December, workers there rejected a two-year pay offer of a 4% pay rise during the first year, followed by 3% during the next.
But KPMG's Mr Leech said there were no reasons to be unduly concerned about this.
"I think the workforce indentifies strongly with the brand and the product," he said.
"But workers want to hear parent company Volkswagen's long-term plans."
The Geneva motor show is open for the public from 8-18 March.