Nurses reject public sector pension proposals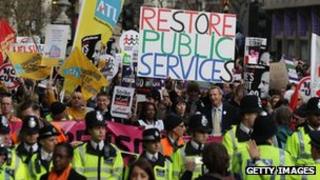 Nurses have joined other NHS workers in rejecting the government's latest plans on public sector pensions.
The Royal College of Nursing (RCN) said that almost two-thirds of its members who had voted in the latest ballot had rejected the offer.
However, the turnout stood at just over 16% of members, with 65,759 votes cast.
The RCN joins the union Unite in the health sector in rejecting the draft agreement proposed by the government in December.
The government has previously said the latest proposals were its final offer, and provided a fair solution.
Unite, which has 100,000 members in the NHS, rejected the deal in early January.
The RCN said its main concern was the prospect of its members working in a physically demanding job until the age of 68. This increased pension age was due to take effect in 2046.
"While the members who voted expressed a clear view, showing their anger at the government proposals, we are disappointed that more of our members did not take the opportunity to vote," said Kath McCourt, who chairs the RCN Council.
"We will now, as a matter of urgency, meet with other unions who are at varying stages in their own member consultations."