Carmakers show off their sharing side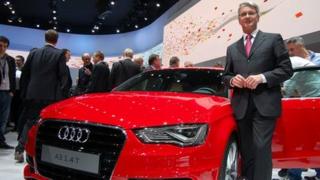 The string of cars unveiled during Volkswagen Group's multi-model preview, on the eve of the first press day at the Geneva motor show, offered a feast for petrol heads.
"We have taken you on a trip through the Volkswagen world," says chief executive Martin Winterkorn, as he eyes model launches from the group's 11 brands that range from truckmakers Scania and MAN, via mainstream models such as Seat and Skoda, to supercar divisions such as Lamborghini and Bugatti.
But amidst all the shiny metal, the light shows and the booming music, one car stood out - not because of its superficial looks but rather due to its "inner beauty".
The car in question was the Audi A3, whose engineering prowess is a vital ingredient for the carmaker's success.
"The new A3 is a very important car for the VW Group," according to IHS Automotive analyst Tim Urquhart.
"It is not only the first Audi C-segment model for the best part of a decade, but it will also be the first model in the VW Group's portfolio to be built on the company's new MQB platform, which will become the vehicle architecture for the vast majority of the group's vehicles over the coming years."
Multi-model architecture
Over the next seven years, the Modularer Querbaukasten (MQB) platform will underpin 40 to 60 different models made by Audi and its sister marques Volkswagen, Skoda and Seat.
This, VW believes, should help cut costs by a fifth and dramatically speed up assembly of some six million cars.
"Modular components only have to be developed once, not several times," says Rupert Stadler, chief executive of Audi.
"And with savings in areas the customers never even see you can reinvest in other areas to make the end product better."
Ulrich Hackenberg, who heads up Volkswagen Group's 35,000 strong global research and development team, adds that the new platform will also help the weight of the company's cars.
"The new A3 weighs 80 kilogrammes less than its predecessor," he says. "40kg of that comes from a chassis and floorpan built using lightweight, ultra-strong materials."
Sharing with rivals
At German rival Daimler's rival preview event, a similar story unfolded with the global premiere of its new Mercedes A-Class, the marque's smallest model.
Like the Audi A3, the A-Class is based on a platform shared with other models, in this case the MFA, or modular front drive, architecture used by the Mercedes B-Class.
In addition, the MFA platform will form the basis for a future model to be made by Nissan's luxury subsidiary Infiniti, as part of the increasingly close cooperation between Daimler and the Renault-Nissan alliance.
"Thanks to the MFA platform, the premium compact car segment is growing fast," says Daimler's chief executive, Dieter Zetsche, predicting that the global market for small luxury cars would grow from 6.5 million cars per year currently to more than 10 million in 2021.
"But it is growing fast, not just in terms of volume but in terms of diversity too," he adds.
Analysts applaud the development.
"What is certain is that the all-new MFA architecture will be used as a base to expand Mercedes' range of compact model offerings dramatically," says IHS Automotive analyst Tim Urquhart.
Cheaper, yet distinct
Nissan is another player aiming to cut costs by almost a third by employing modular engineering solutions that can be shared across different vehicles. Its system is called CFM, or Common Module Family.
In the future, the Japanese carmaker aims to raise the number of vehicles using common parts from less than 200,000 currently to more than 1.6 million in the future.
A similar approach is likely to be taken by Nissan's alliance partner Renault, and the two are likely to work together on this.
"Everything we're trying to do is about two things," says Carlos Ghosn, chief executive of both Nissan and Renault, "how we can get the cost efficiency and investment efficiency while at the same time still get a very distinctive brand or product that people will not confuse?"
Common components
Volkswagen's, Daimler's and Nissan's platform strategies are matched by similar approaches taken by their rivals.
The strategic alliance between General Motors and PSA Peugeot Citroen that was announced last week endorses the logic behind the trend.
"We will share new architecture - components and modules - to reduce our structural cost base and improve our economies of scale," says Karl Stracke, chief executive of Opel, which also owns Vauxhall.
All around the world, carmakers - including Ford, Toyota, Hyundai and Fiat - are working on platform solutions that each underpin the production of several million cars.
Distinct models
This is not to say the cars that share the same architecture will be similar.
Modern platform and engine solutions are modular, which means they are much more flexible than they used to be.
The same goes for engines, which can be tuned differently or fitted with various types of turbo chargers to make their performance distinct between car models.
Consequently, carmakers can make cars look and feel distinct - even though they have been put together with bits taken from the same parts bins, in a manner comparable to how children build different toy cars with bits taken from the same bucket of Lego bricks.
Search for a partner
This ability to preserve cars' distinctive character while at the same time pushing costs lower with the use of parts shared across as many models as possible is convincing ever more carmakers to get in on the act.
Volvo's chief executive, Stefan Jacoby, is among those who see platform and engine sharing as a way to improve economies of scale.
"We are developing our own vehicle and engine platforms for the upper segment models that will cover some 600-700,000 cars and sports utility vehicles we build," Mr Jacoby said earlier this year, "but for vehicles below that, we are in the middle of looking for a partner."
The search for a partner is particularly important for Volvo as its current models are heavily underpinned by Ford technology, though its current partnership with the US automotive giant will expire in five years or so.
"It would be beneficial for Volvo to assert its increased independence by shifting its technology away from that of Ford's," according to Ian Fletcher, automotive analyst with IHS Global Insight.
The Geneva motor show is open for the public from 8-18 March.