Google 'fails to meet EU rules' on new privacy policy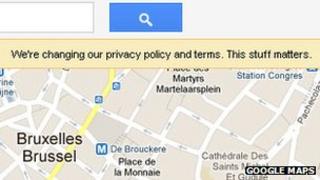 Google's new privacy policy may violate the European Union's data protection laws, according to the French data regulator.
The search giant plans to unify 60 different privacy policies across itsproducts from 1 March.
But EU regulators had urged a "pause" so they could analyse the changes.
The French regulator, CNIL,said that the policy "raises deep concerns"and that it fails to meet the needs of the European Data Protection Directive.
The European Commission recently set out plans for new pan-European data protection rules.
The Article 29 Working Party- an advisory body which includes representatives from all EU data protection authorities - had asked the Commission Nationale de L'informatique et Des Libertes to look into Google's new policy after raising its concerns earlier this month.
"The CNIL and the EU data protection authorities regret that Google did not accept to delay the application of this new policy which raises legitimate concerns about the protection of the personal data of European citizens," it said.
The French regulator added it was "deeply concerned about the combination of data across services and will continue their investigations with Google's representatives".
Google has said it is improving user experience and making its policies simpler and easier to understand.