Stamp price rise plans are affordable, says Royal Mail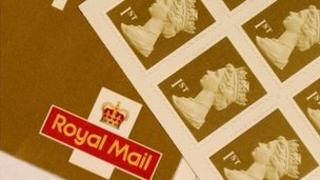 Plans to increase the prices of stamps will not lead to an "affordability issue", the Royal Mail chief executive has told MPs.
Moya Greene told the Commons' Business Committee that the cost of stamps would have to rise.
Regulator Ofcom is consulting on plans to remove price caps on first class stamps and raise the price limit on second class to as much as 55 pence.
But MPs heard that some people would be safe from price rises this Christmas.
The plans, which have yet to be finalised, would see people on Pension Credit, or Employment and Support Allowance being eligible to buy stamps for the festive period in 2012 at Christmas 2011 prices.
A Royal Mail spokesman said that stamps would be available through the post office network and that every UK household would be informed of the offer once it was confirmed.
Price plan
Ofcom, which has taken over regulation from Postcomm, has previous said that the industry is facing "huge changes" and that reform is needed.
It told MPs last week thatits proposals, announced in October, were designed to make sure UK consumers continued to benefit from an affordable, universally-priced postal service six days a week.
The cost of a first-class stamp is currently 46p. Under the plans, Royal Mail would be allowed to set this price at a level it considered to be appropriate and competitive.
The only price cap would be the charge for second class letters, which is currently 36p, to a range of between 45p and 55p.
Christmas reprieve
Now Royal Mail has told the same committee that stamp prices will almost certainly have to rise, but argues that families will be able to cope with the extra cost.
"I think prices in the UK will have to come up," said Ms Greene.
"We do not think there is an affordability issue. This is not like electricity or gas. The price of a first class stamp today is only about 25% of the cost of a single fare on the bus in London."
She said that Royal Mail, which made a £120m loss from its letters business in 2010, was "looking to cover our costs and have a commercial rate of return" in the future.
But she said Royal Mail would charge 2011 prices for festive mail sent by vulnerable households, or those on "modest" incomes in 2012, at the busiest time of the year for the service.
In a statement after the hearing, Royal Mail said: "We have some of the lowest stamp prices in Europe and amongst the highest service standards.
"To maintain this vital service, price rises are really needed, given Royal Mail's financial position."