Europe in housing market 'agony', says Rics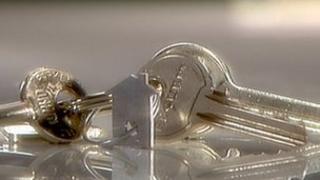 Europe is in the midst of "prolonged agony" of housing market decline with no obvious end in sight, a report by surveyors has claimed.
The downturn began five years ago, so had lasted longer than a typical 12 or 18-month dip, the Royal Institution of Chartered Surveyors (Rics) said.
The Irish Republic and Spain saw house price falls of 17% and 10% respectively in 2011, compared with 2010.
Austria, France, Switzerland and Norway all saw prices rise by 5% or more.
Warning
TheRics European Housing Reviewsuggested that the future of the continent's housing market depended on the scale of the economic downturn.
The future for the housing market would be "grim" if the eurozone crisis remained unresolved or came to a "painful conclusion", it warned.
Prices in the Irish Republic had already fallen by 50% from their peak, the report said, with a host of new homes having been built before prices crashed.
"Not only did Ireland, Spain and Cyprus all have substantial price booms prior to their crashes, but they also had huge building booms as well," the report said.
"Each one in consequence is still suffering from severe new supply overhangs."
The market across Europe could survive relatively unscathed if there was only a moderate economic slowdown, the report added.
Yet, so far, there were "special reasons" for some countries being at the top of the house price growth league.
Prices in France had been boosted by stimulus packages. Iceland had bounced back slightly from a massive fall in house prices.
Meanwhile, price rises in Norway had not been matched by the other Nordic countries. Previous strong price growth ended in 2011 in Finland, Sweden and Denmark, the report suggested.
UK market
The UK saw a slowdown in house price falls in 2011, the report said, with the average home worth 1% less than a year earlier.
However, a separate report from theLand Registryshowed that house price changes were significantly different in various areas of England and Wales.
The Land Registry said that prices were down 1% in the year to the end of January, although they had seen a 1.1% monthly rise. This meant the average home in England and Wales was valued at £161,545.
Over the year, prices went up by 2.9% in London, where the average home cost £351,305. This compared with a 4.5% fall in house prices in the same period in the North East of England, where the average price was £102,066.