Japan retail sales boosted by surge in demand for cars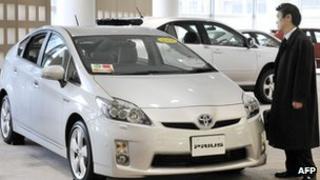 Japan's retail sales rose more-than-expected in January driven up by a surge in car sales as government subsidies on energy efficient cars boosted demand.
Retail sales rose 1.9% from a year earlier, with car sales up by 24%.
The jump comes after Japan reintroduced subsidies of up to 100,000 yen ($1245; £786) per car to encourage sales.
The country's carmakers were among the worst hit businesses by last year's earthquake and tsunami.
In December, the Japanese government announced that it would set aside 300bn yen as part of its subsidy programme for energy efficient cars.
Analysts said the subsidies were likely to boost sales further in the coming months.
" The Japanese automotive association predicts that domestic car sales in 2012 will reach 5 million, up 19% year-on-year due to subsidy and normalization of the supply chain disruption," said Takuji Okubo of Societe Generale in Tokyo.
"Car sales account for 10% of Japanese retail sales, and if the association's prediction is true, it would boost overall retail sales by 1.9% in 2012."