Portugal passes latest bailout review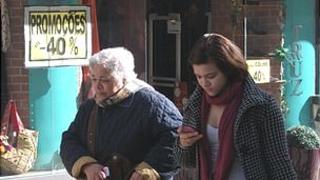 Portugal has passed the latest review of its continuing spending cuts and economic reforms, the country's Finance Minister Vitor Gaspar has said.
It paves the way for the government to receive the next 14bn euros ($19bn; £12bn) round of bailout funds from the European Union, European Central Bank and International Monetary Fund.
The move follows after inspectors from the so-called troika had been in Lisbon to assess the country's performance.
Portugal is to get 78bn euros in total.
Mr Gaspar said: "The result [of the evaluation] was positive despite unfavourable conditions.
"The mission confirmed the fulfilment of the criteria demanded by the terms."
Strike plan
The Portuguese government has been working hard to continue to cut costs, despite a steep recession and an unemployment rate of 14%.
In particular, the government is making important changes to labour conditions.
Last month, it reached an agreement with unions and employers to cut holidays and the compensation paid when workers are laid-off.
Under the deal, it was also made easier to hire and fire staff.
Measures like that have won praise from the troika and Portugal has, so far, received its bailout funds with much less drama than Greece.
But the gain has not come without pain for Portugal.
There have been deep cost cuts that are hitting public sector workers particularly hard, with many people facing a steep reduction in income.
That has prompted mass protests, and a general strike is planned for late March.
Unemployment warning
Mr Gaspar also warned on Tuesday that the economic situation in the country would only worsen this year.
The government now predicts that the Portuguese economy will contract by 3.3% in 2012, compared with its previous estimate of 3%.
It also expects the unemployment rate to reach 14.5%.
Economist Diego Iscaro, of IHS Global Insight, said Portugal was likely to need a second bailout before the end of the year.