Arsenal profits surge on player sales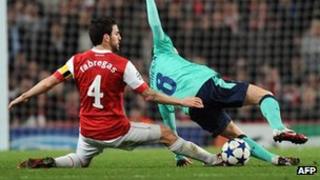 Premier League football club Arsenal has reported a huge rise in profits to £49.5m, following the sale of some key players.
The profit, for the six months to the end of November, compares with a loss of £6.1m for the same period in 2010.
Some £41.6m of the club's profits came from player trading, including the sale of Samir Nasri and Cesc Fabregas.
Arsenal have struggled for form in the league this season, but recently beat local rivals Tottenham Hotspur 5-2.
The figures saw Arsenal's cash reserves rise to £115.2m, up from £110.4m.
Supporters have called for this cash to be invested in new players, to help boost the club's chances of winning a trophy.
Investment
Arsenal seem likely to end a seventh successive season without winning in any major competition.
However, the club warned that not all the cash would be spent on new players.
"It's important to understand that not all that money's available to invest in transfers," said chief executive Ivan Gazidis.
"We have running costs of the club, player salaries and so on, so that amount goes down during the year. We also have to keep something in reserve in case things don't go our way," he added.
Turnover from football rose to £113.5m from £97.6m.
"We are proud of Arsenal's record and consistency over many seasons and have the foundations in place, at every level of the club, to ensure we remain a force in the seasons ahead," said chairman Peter Hill-Wood.
Arsenal are under new ownership since being taken over by US sports billionaire Stan Kroenke in May last year.
Mr Kroenke increased his stake to almost 67% of the club, with Uzbek oil magnate Alisher Usmanov owning about 29%.