Elpida seeks bankruptcy protection as debts hit $5.6bn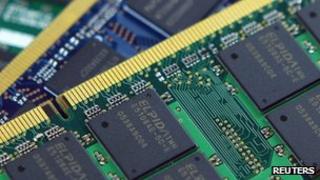 Japanese chipmaker Elpida has filed for bankruptcy protection as it struggles to repay debts of 448bn yen ($5.6bn; £3.5bn).
The company has suffered from falling prices due to weak demand, increased competition and the strong yen.
The filing represents the biggest corporate failure seen in the Japanese manufacturing sector.
The company said if it continued trading on its own, it would "face a cash shortage soon".
Elpida specialises in what are called dynamic random-access memory (DRAM) chips, which are widely used in personal computers.
"[Elpida] may use a bankruptcy filing to seek protection and get more time to solve its debt problem," said Joyce Yang at Eureka International.
"But, in the long run, it still has competitiveness issues because its yield rate is not good and the chance of seeing a big rise in DRAM prices [in the short term] is low."
The filing could benefit rival chipmakers, analysts said.
"The bankruptcy protection will not mean that Elpida will stop producing chips immediately, but Elpida is shrinking and major customers will defect from the company and move to South Korean companies," said Lee Seung-woo, an analyst at Shinyoung Securities.
Elpida was formed in 1999 as a joint venture between NEC and Hitachi.