Wage rows threaten Indonesia's booming manufacturing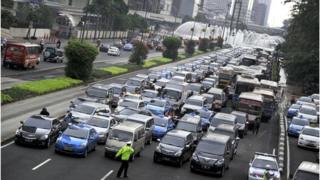 For many Jakartans a car is a way of life. If you can afford one, it's one of the only ways to sit out the city's intolerable traffic.
Rahmatul Mutmainah didn't have to think too hard about her decision to buy a second car, even though it is going to set her back some $30,000 (£19,000; 22,340 euros).
Inspecting a new Toyota minivan model at one of the carmaker's many showrooms in Jakarta, she is quite clear about how important the new purchase is for her business - and for her personal comfort.
"It's a necessity," she says. "I drive a sedan now, and that's just not big enough."
Ms Mutmainah is in the entertainment industry, and manages a well-known singer in Jakarta. Often, she has to transport artists and performers from one part of the city to the next.
"There's a lot of traffic in Jakarta, so if you in sit in a small car, it's just not comfortable."
And these days Indonesians are feeling far more comfortable about spending their cash than ever before.
Revving up
Car sales in this country have soared of late - and Toyota Motors has been a huge beneficiary of this new-found love for the automobile. It's the leading car firm in Indonesia, and, along with its affiliate Daihatsu, is thought to have a market share of about 65%.
The most popular car in Indonesia is the Toyota Avanza, selling at about $15,000. The small family car has become a symbol of the Indonesian middle classes' new found wealth.
Industry experts say more than a million cars will be sold in Indonesia this year - a year ahead of expectations - making it the largest car market in South East Asia.
That's why foreign carmakers are increasingly attracted to the country, not just to sell their cars in, but also to be close to their customer by setting up production facilities here.
Toyota has announced it will be building a new production facility, and spending some $143m to boost its capacity here by 60%.
Meanwhile Suzuki is reportedly investing some $700m in Indonesia to build a new engine plant, in an attempt to increase the number of cars it makes here.
General Motors and BMW have also made headlines recently with their Indonesia plans, as has India's Tata Motors.
Car production is capital and labour intensive, and Indonesia's low-cost labour market has been one of the key reasons why manufacturing firms have been keen to come here.
But Indonesia's ambitions to become the Detroit of South East Asia could be thwarted by recent labour protests.
Business fears
In January, thousands of workers agitating for the minimum wage to be increased between 20% and 30% blocked off a major toll road outside of Jakarta, until their demands were met.
They were protesting against a court ruling that had overturned a decision by the local mayor to increase the minimum wage - a ruling that was subsequently reinstated as a result of the demonstrations.
Although minimum wage varies from province to province, and sector to sector, the average minimum wage in Indonesia is still significantly lower than China's - a comparison many businessmen in Indonesia often make.
For example, the standard minimum wage in Jakarta is about $170 a month. Analysts say that China's workers can get at least 40% more than that in some parts of the mainland.
The protests were the most recent labour action to hit Indonesia. Last year, American mining giant Freeport McMoran was hit by a three-month strike at its Grasberg mine in Papua - a strike that was only lifted after workers negotiated a 37% pay hike for themselves.
This week brought more troubles for Freeport, as the company has announced it is facing "work interruptions" at the Grasberg mine because of disputes between its workers.
Sofyan Wanandi, the man in charge of Indonesia's Employers Association says he's concerned about the precedent of using demonstrations and strikes as bargaining chips.
"I'm worried that if the recent [toll-road] case is copied by all the region, what could happen," he says at his office in central Jakarta.
"This is what the businessmen are worried about. And what about next year? More than 30%? Because next year is the election year. We start campaigning next year. There is a lot of uncertainties right now."
There has been a great deal of speculation as to the real cause behind these protests - many editorials in Jakarta have raised the issue whether the reasons are more political than economic.
Mr Wanandi agrees.
"According to me, its part of the political game," he says. "We don't know who is playing this game, but we [the business community] have become the victims of the whole thing. That's bad for the country."
Worker woes
Union leaders say what's really bad for the country is low wages for Indonesian workers.
Rekson Silaban, chairman of the Confederation of Indonesian Workers Welfare Unions, says that many workers are often exploited by companies.
"The government has set the minimum wage but the compliance by the private sector is very low," he says the sidelines of a panel discussion on labour protests.
"Why? Because so many people want jobs and there is a lot of competition for work. These people want a better life, and then when they get a job, they are underpaid - so that's why they protest."
Mr Silaban adds that Indonesian workers' wages haven't kept pace with the growth in the economy.
"The purchasing power of the workers remains the same, they're living in the same conditions," he says.
"That's why they're so angry about this situation."
Indonesia is undoubtedly a nation on the move - strong economic growth here is attracting interest from firms around the world.
But as the world becomes interested in Indonesia, Indonesians also want to feel like they're being paid a decent wage.
They want to share in this country's new found wealth.
It's increasingly likely, as this country's economy grows - that more Indonesian workers will want a bigger piece of the pie.