Billabong rejects TPG takeover bid calling it too low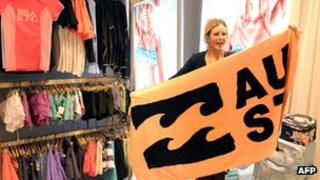 Australian surf wear maker Billabong has rejected a takeover bid from TPG Capital but said it is still negotiating with the investment firm.
TPG had offered 765m Australian dollars ($823m; $520m), or A$3 per share, which Billabong said was too low.
Billabong has seen its fortunes decline in recent years due to falling global demand.
Its net profit fell 72% to A$16m in the six months to the end of December.
A rising Australian dollar has also impacted its overseas sales making Billabong goods more expensive to foreign buyers.
The Australian currency has risen more than 11% against the US Dollar since October last year.
Improved bid?
Billabong shares, which have gained more than 60% since the takeover bid, rose another 2.4% on Monday at the Australia Securities Exchange after the firm said it was still in talks with TPG.
However, Billabong said that "it is not known at this stage whether those discussions will result in an improved proposal from TPG".
Its shares have also been boosted by the announcement of a restructuring plan by the firm, raising hopes of a recovery in its business.
Under the plan, which was announced after TPG made its takeover bid, Billabong said it will sell off its Nixon brand and use the proceeds to pay off some of its debt.
The firm said it will also close as many as 150 unprofitable stores and cuts jobs as part of its bid to revamp its business model.