Greece submits its debt write-down offer to creditors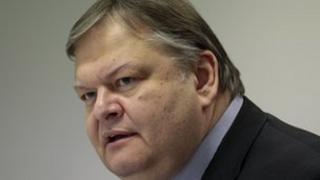 Greece has submitted its debt write-down offer to private creditors, a key part of its bailout agreement with the European Union and International Monetary Fund.
Under the proposed debt swap, banks and other private creditors are being asked to take a 53.5% loss on their Greek bonds.
If they agree, it will wipe out 107bn euros (£90bn; $142bn) of Greece's debt.
It comes a day after the Greek MPs approved the planned write-down.
Earlier this week, eurozone countries agreed to give Greece a new 130bn euro loan in order to bring Greek debt down from 160% of GDP to 120.5% of GDP by 2020.
Without a further loan, Greece stands to default on its debts on 20 March.
In return, the Greek government is continuing with extensive cost-cutting measures.