Dreamliner glitch 'will take days to fix'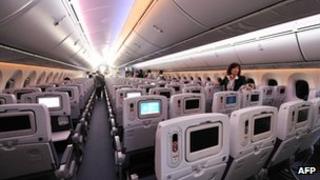 Boeing says a repair to its flagship new plane, the 787 Dreamliner, will take days, not months to carry out.
Company engineers unearthed a flaw with the new fuselage before Christmas.
The company says there are no safety concerns associated with the glitch.
Unlike other large passenger planes, which have bodies made of aluminium, the 787's body is made of a composite mixture of carbon and polymer resin (plastic), to make it lighter and more fuel-efficient.
But it is this design that is causing the problems.
'No safety concerns'
The fuselage is linked together in sections.
Sometimes the engineers use something called "shims" to fill any small gaps.
Boeing reported problems with some of these shims, as well as signs of "delamination", which is when stress causes the materials to begin to separate.
Boeing said: "Our inspections are ongoing, but we do expect to have some level of finding on assembled airplanes. Because there is no short-term safety concern with this issue, there is no need to conduct the inspections or repairs on in-service airplanes immediately.
"The process for in-service airplanes will be completed as efficiently as possible, consistent with the regulatory requirements."
Dr Colin Brown from the Institution of Mechanical Engineers told the BBC that it will be annoying for Boeing, but it is nothing for future passengers to worry about: "This is the largest, highly stressed composite thing ever made, so they're breaking new ground.
"However, there are no safety implications, because whenever you do break new ground you're always inspecting these things, so you pick them up long before they affect the integrity of the aircraft."
Ramp-up
Whenever a plane-maker does something new they are always putting billions of pounds, and their reputation, on the line.
The Dreamliner arrived three years late, and there are still just five flying, with Japan's All Nippon Airways.
The company is now keen to ramp up production as the order book fills up.
It currently stands at 870, including the first UK carrier, Thomson Airways, which is due to take delivery later this year.
Boeing is not alone in having problems with its showpiece new plane.
Airbus is still working on a permanent fix to cracks found in a few brackets within the wings of its gigantic A380.
Again, the company stresses that the plane is safe to fly - a view backed up by industry experts.
Dr Colin Brown says, "It's typical of the type of thing that happens on new planes, especially when you are pushing the envelope."