Fiat boss Sergio Marchionne says Italy plants may close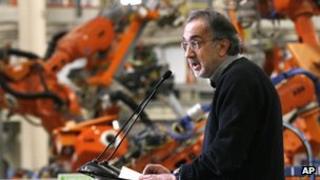 Fiat's chief executive says two plants in Italy may have to close unless they can export cars to the United States.
In a newspaper interview, Sergio Marchionne said he expected demand in Europe to remain weak until 2014.
Fiat's loss-making Italian plants should target the US market, according to Mr Marchionne.
In particular, he thinks the Alfa Romeo brand could be a success in the US. A new Alfa sports utility vehicle goes into production next year.
Fiat has two more Alfa Romeo cars planned for 2014.
"We need Alfa in the States," said Mr Marchionne in the interview with Italy's Corriere della Sera.
Since taking over as chief executive in 2004, Mr Marchionne has been reorganising the company's car plants in Italy.
The Fiat boss fought a long battle to shut down the Termini Imerese factory in Sicily.
Despite resistance from unions, more flexible work practices have been introduced.
But according to the company, Fiat's Italian plants are running at just 50% of their potential capacity, while plants in the US and Poland are working at full speed.