Volkswagen annual profits double to 15.8bn euros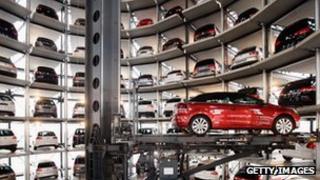 Profits have more than doubled at Volkswagen after the company delivered a record number of vehicles last year.
It reported net profit of 15.8bn euros (£13.4bn; $21.2bn) for last year, compared with 7.2bn euros in 2010.
It delivered more than 8.2 million vehicles, up almost 15% on 2010.
VW plans to spend 62bn euros on new plants and models in the next five years, as well as on research and development. It will also hire 50,000 more staff in the next six years.
The company plans to be the biggest carmaker in terms of sales and profits by 2018.
To help reach that target, it has developed a new platform that will serve as a base for its small and large cars.
"VW was keen over recent weeks to remind investors of the costs associated with future developments - in particular a new platform which should deliver cost savings of up to 20% in 2013 and beyond," said Michael Tyndall, Auto Analyst, Barclays Capital.
But like other carmakers, Europe's economic slowdown continues to be a drag on Volkswagen.
"VW has previously highlighted the need to provision for price competition in Europe, which suggests the market in Europe continues to be difficult," said Mr Tyndall.
The company also announced that it would raise its dividend payout to shareholders.
The figures are preliminary and full 2011 earnings will be released at VW's annual news conference on 12 March.