O2 owner Telefonica reports profits down 47% in 2011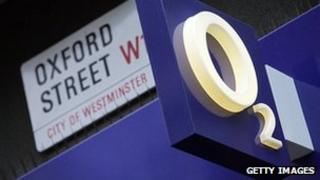 Profits have halved at Telefonica, the owner of UK mobile network operator O2.
The company made a net profit of 5.4bn euros ($7.2bn, £4.6bn) in 2011, down from 10.1bn euros in 2010.
Meanwhile rival Telecom Italia reported a rise in profits due to strong growth in Latin America.
Telefonica managed 47.1m mobile, fixed-line and broadband accounts in Spain last year, little changed from 2010, but overall sales fell 7.6% as customers spent less.
The company has been slashing jobs in Spain in a reorganisation that cost the company almost 2bn euros last year.
Unemployment is running at 23% in Spain and the country's economy is expected to tip back into recession this year, making it difficult for Telefonica to generate sales growth at home.
In a statement accompanying the company's 2011 full-year financial report, Telefonica chairman Cesar Alierta said: "2011 has been a key year in the process of transformation of Telefonica.
"In a difficult environment, our diversification and our flexibility has allowed us to deliver solid results, in line with the targets announced."
The company has been successful in Latin America where sales grew 13.5%. That region now accounts for almost half of Telefonica's operating income.
In the UK, where Telefonica has 23 million customers under the O2 brand, sales fell 2.7%.
The firm also operates in the Irish Republic, Germany, Slovakia and the Czech Republic as well as its core domestic market in Spain.
European rival
Meanwhile, Telecom Italia revealed a 5.2% fall in sales in Italy last year, as recession hit demand in its home market.
Given the deteriorating economic environment, Telecom Italia is keen to cut its large debts.
To help with that, the company is cutting its dividend payout to shareholders by 25% this year.
Overall Telecom Italia reported core earnings of 12.25bn euros up 7.3% on 2010.
It was helped by a strong performance at its Brazilian business where sales rose 18%.