Families hide their wealth to avoid care home costs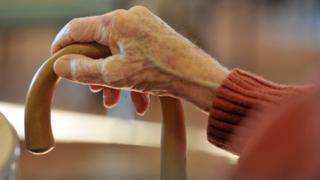 Some relatives of pensioners are hiding their parents' full wealth to avoid paying care home fees and many local authorities are failing to use the available legal powers to claw the money back.
"I don't think greed was the absolute motive. They just thought the council should pay and if there was a legal way around it, they would take it."
John - not his real name - describes how his brother and sister were able to get away with not telling their local authority about their elderly mother's savings, leaving the council to pick up much of the cost of her residential care.
Most people who have more than £23,250 in assets, including their home, have to meet the full cost of care.
The threshold differs slightly in Wales and in Scotland care home residents are able to access free personal care.
But by not disclosing the truth about their mother's assets, John's siblings protected her wealth - and their own inheritance.
"My brother had an interview with someone from the local authority and he just said 'well they didn't really ask me too much, it was easy'.
"I couldn't understand how we'd been able to say that mummy didn't have considerable assets, which I knew she had," John told 5 live Investigates.
Once she was in care, John's siblings sold their mother's house and put the proceeds of the sale into an investment bond.
John says his siblings were advised this would put the assets out of the reach of any local authority means test of their mother's wealth.
"I think if the local council knew all the detail and the facts and had the time and the energy and the people to look into it they would see it was wrong."
Hunting hidden assets
The move led to a rift in John's family over whether they or the state should be funding their mother's care.
"It was just terrible, just shocking how it had affected us all," John explains.
"I was accused of upsetting the family, that they'd lost sleep. There was a terrible falling out. At the end of the day I didn't want to sound pious or righteous, I just wanted to tell the truth."
The question of who should fund the residential care of the elderly is one that divides public opinion. 5 live Investigates has also discovered that local authorities are also split on how to tackle the issue.
If a council can prove that individuals have deliberately deprived themselves of assets in order to avoid paying care fees, they can take legal action to recoup what should have been paid.
The BBC contacted local authorities across the UK using the Freedom of Information Act to find out which had used the powers available to them.
Only 16 of the 121 councils that responded said they had recouped money back using legal powers.
Surrey Council recovered the biggest sum, recouping more than £250,000 since 2009.
John's mother lived in one of the many areas that has not reclaimed any money using the legal powers available to them.
"It's still a bit difficult to imagine how the authorities couldn't pick up on a property that for many years had been in my parents' name," John says.
"I mean, authorities all work together, don't they?"
"We have a local councillor in the village who knows my parents, knows that they've always lived in the property and that the property has been sold and they had been in it for fifty years.
"And the council still didn't pick up that they derived any benefit from the sale of that property?"
'Do the right thing'
The lack of uniformity in the local authorities' approach to the issue has been criticised by financial advisers.
"The huge variation between local authorities means the first question advisers are asking is: where do you live?" says George Hodgson, deputy chief executive of The Society of Trust and Estate Practitioners whose members advise families on tax and inheritance issues.
"There's no confidence that the rules, as written down, will be applied consistently. It's not just the local authorities, the government needs to come to a clear position on what it's going to do about this problem."
However, Peter Hay, president of the Association of Directors of Adult Social Services, says he is not surprised that there are differences between local authorities.
Mr Hay says it is to do with the fact that it is really hard to prove in court that a person deliberately intended to deprive themselves of assets.
Not only that, but taking legal action can be really expensive and the total legal costs incurred by local authorities can end up being more than the sum they might recover.
In 2010 the coalition government asked the economist Andrew Dilnot to look at how social care should be funded in England in the future.
Last year, the Dilnot Review recommended raising the threshold for total assets at which individuals would have to pay for their own care to £100,000 ($158,324), with contributions capped at £35,000.
The government has not yet adopted the recommendations put forward in the report.
Northern Ireland and Wales operate a similar means test system to England, while Scotland offers free personal care according to eligibility.
The uncertainty about how care fees will be funded in the future is leading some families to seek ways of protecting their assets.
John agreed to speak out about his situation because he thinks it is unfair that wealthier individuals, like his siblings, are taking advantage of avoiding care fees.
"They definitively were not, and are not, in need of money," he told 5 live Investigates.
"They are both very wealthy and have properties abroad and considerable assets. My brother owns a very expensive car - the most expensive car."
But what upset John most is that he says his mother and father also would not have approved of what his family have done.
"They'd always lived their life, paid their taxes and done the right thing," he says.
"They would just have paid and would have wanted everything to be absolutely declared."
You can listen to the full report on 5 live Investigates on Sunday, 26 February at 21:00 GMT on BBC 5 live. Listen again via the 5 live website or by downloading the 5 live Investigates podcast.